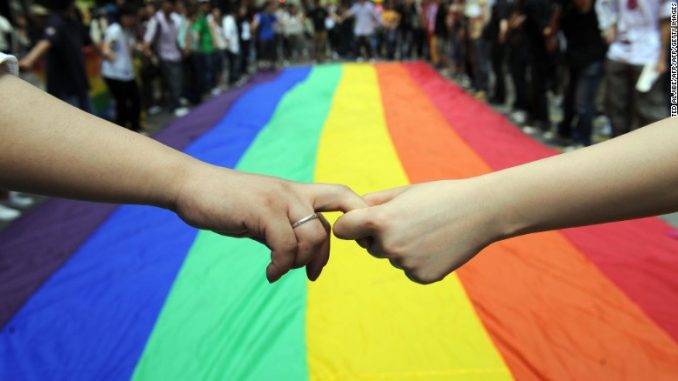 Hong Kong (CNN)A Hong Kong court has ruled that the same-sex partner of a British expatriate has the right to live in the territory as a dependent, a game-changing decision that could open the door for other foreign workers.
In a statement, Vidler & Co., a legal firm representing the plaintiff, referred to in court documents by the initials QT, said it a "welcome affirmation of LGBTQI rights" in Hong Kong.
Hong Kong, a Special Administrative Region of China, doesn't recognize same-sex marriage and QT's application for a "spouse" visa was initially rejected by the territory's Immigration Department.
The court ruled that the Immigration Department's policy "constitutes sexual orientation discrimination," the lawyer's statement said.
QT, a British national, and her partner, named SS in court documents, entered into a civil partnership in the UK in 2011, before moving to Hong Kong soon after, according to local media.
"Whilst oneness, togetherness, jointness and mutuality are hallmarks of a heterosexual marriage relationship, they are not, or no longer, exclusive to such a relationship," said the unanimous ruling from a three-judge panel.
"A same sex marriage relationship or civil partnership relationship such as the one involved in the present case, allowed in an increasing number of countries including the United Kingdom, also carries with it such hallmarks."
More welcoming environment
The decision could increase Hong Kong's competitive edge, by making it more attractive for LGBT professionals to settle in the city.
"Excluding the foreign worker's lawfully married (albeit same‑sex) spouse or civil partner under a civil partnership lawfully entered into in a foreign country from coming to Hong Kong to join the worker is, quite obviously, counter‑productive to attracting the worker to come to or remain in Hong Kong to work in the first place," the ruling said.
In June, 12 leading multinational banks offered support to QT in her appeal, filing a submission with the Court of Appeal spelling out what they saw as a counterproductive tool which harmed recruitment of top candidates in the finance field, the
South China Morning Post reported
.
Long road ahead
Under the Basic Law, Hong Kong's de facto constitution, marriage is defined as between a man and a woman, and despite ruling in QT's favor, the court did not attempt to dispute the definition.
"Marriage in Hong Kong means the voluntary union between a man and a woman to the exclusion of all others," the ruling concedes, but activists are hopeful that the recognition of the validity of same-sex unions in the ruling means that official attitudes are evolving.
"It's a good thing, it's a positive development but we should remember that this is specifically about immigration — people ask if we're one step closer to same-sex marriage in Hong Kong, which it's not, not directly," said Reggie Ho, spokesman for the Pink Alliance.
"In the ruling, the judge said 'oneness, togetherness, jointness and mutuality' are not exclusive to heterosexual marriage — this is important," he says. "In the argument of marriage equality… a lot of the points made in this judgment will come in handy."
Ray Chan, Hong Kong's only openly gay legislator, welcomed the decision, calling it a "big win" on Twitter, but warned that it was not a panacea for LGBT rights in the city.
"The winning of the QT case means that overseas spouses can now apply for the right of abode in Hong Kong on a dependent visa," he wrote in a
subsequent Facebook post
. "(But) the Court of Appeals didn't try to dispute over the definition of marriage."
In the meantime, he says that Hong Kong's government should "take the initiative to set up a registration system for same sex partners, protecting the rights of Hong Kong's LGBT community."