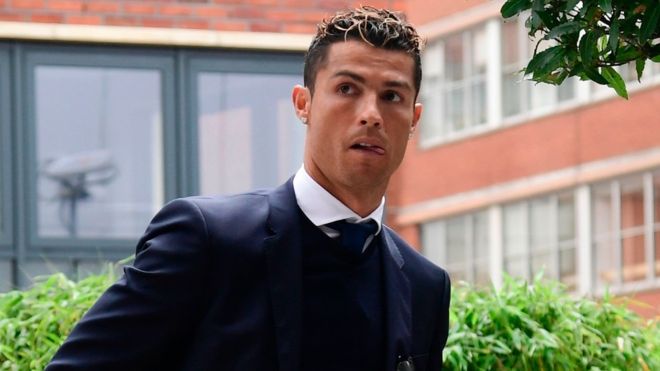 Footballer Cristiano Ronaldo has arrived at a Spanish court amid allegations he evaded millions in tax.  Prosecutors accuse Ronaldo, reported to be the world's highest paid athlete, of evading €14.7m ($17.3m; £13.1m) in tax since 2010.  The Real Madrid star has previously denied the allegation, saying his "conscience is clear".  Ronaldo, 32, is the latest in a string of footballers to be pursued by the Spanish tax authorities.
Argentina's Lionel Messi, who plays for Barcelona, was handed a 21-month prison sentence after being found guilty of the same charge last year.  Earlier this month, the court ruled he could pay €252,000 in place of jail time.  However, Messi was only accused of evading €4.1m in tax, €10.6m less than Ronaldo.
Ronaldo arrived to give evidence at a court in the Madrid suburb of Pozuelo de Alarcon just before 11:00 local time (09:00 GMT) on Monday.  According to prosecutors, Ronaldo allegedly took "advantage of a company structure created in 2010 to hide income generated in Spain from his image rights from tax authorities" which was a "voluntary and conscious breach of his fiscal obligations in Spain".
Ronaldo's management have also denied the allegations.
But if the case is sent to trial and he is found guilty, the Portuguese forward could face a fine of "at least €28m" and a prison sentence of three-and-a-half years, the Gestha union of experts at Spain's Inland Revenue says.
Source  www.bbc.co.uk