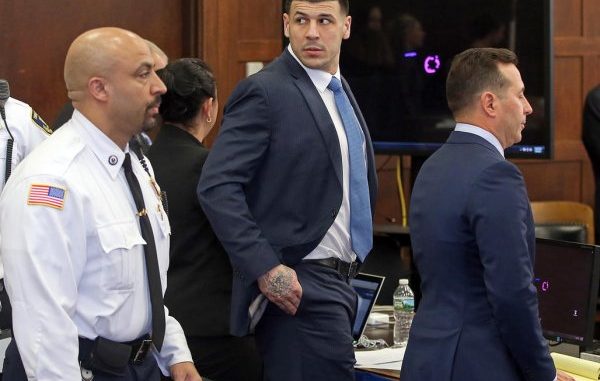 by  Bob McGovern
An attorney representing the estate of Aaron Hernandez has asked for every piece of information regarding the former New England Patriot's apparent jailhouse suicide, though the Department of Correction is indicating it will fight back against the request.
Hernandez's estate is seeking the potential treasure trove of information through a series of motions filed by George Leontire, a lawyer who is handling various legal matters for the disgraced former tight end's family.
"We hope they comply," Leontire said, referring to the Department of Correction. "Whenever an individual dies in the commonwealth's custody, there needs to be an independent examination as to how that occurred. It's not only appropriate — it's essential to ensure a transparent evaluation."
On April 19, days after Hernandez was found not guilty of a 2012 Boston double homicide, the one-time rising star was found dead in his cell at the Souza-Baranowski Correctional Center in Shirley. Authorities say he hanged himself with a bed sheet.
Leontire's motions ask for a summary of the last five phone calls Hernandez made, the sheets authorities say he used to kill himself, photographs from the scene, notes from prisoner interviews and dozens of other pieces of information.
Leontire is also asking for "all information regarding Mr. Hernandez's death in the possession of the medical examiner."
"This is just a continuation of the process we said we would undertake," Leon­tire said. "We want to do an independent evaluation into the circumstances and evidence surrounding the death of Aaron Hernandez."
But on Wednesday, the Department of Correction notified Bristol County Superior Court Judge Thomas McGuire that they will file motions to toss Leontire's requests for information and documents. A spokesman and a spokeswoman for the department did not respond to repeated requests for comment yesterday.
The massive information search comes as ­Miami Dolphins center Mike Pouncey — a close friend of Hernandez — told reporters the former Pro Bowler was in great spirits when they talked on the phone the day before his death.
"We're still shocked to this day that we're even at this point," Pouncey said.
Pouncey said they discussed the fact that a jury had just found Hernandez not guilty of the 2012 Boston double murder. Hernandez also mentioned his plan to fight the lingering murder conviction that kept him behind bars.
Hernandez was convicted in 2015 of first-degree murder for killing former semi-pro football player Odin L. Lloyd.
Source bostonherald.com