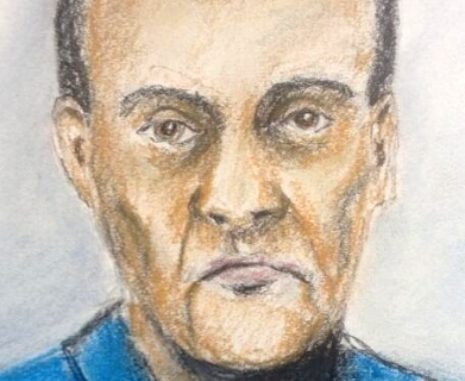 Showing a poise most adults wouldn't display, a young Calgary girl described for police how her stepdad fatally attacked her mom and a family friend.  The girl, whose name is protected by a publication ban, spoke to detectives just hours after her mom was assaulted when she returned to her matrimonial home to pick up some clothing.
Calmly and articulately, the then-nine-year-old told Det. Shawn Goertzen how Hari Pal attacked her mom, Sanjula Devi, inside the Penbrooke Dr. S.E. basement suite around 6 p.m. on May 4, 2014.
She said she, her mom, along with family friend Fahmida Velji-Visram, had gone to the home to gather some belongings after they'd moved out a couple of weeks earlier.
But as she retrieved items from her bedroom and her mother did the same in the master bedroom, Pal began stabbing Velji-Visram, the girl told police in the videotaped interview played Monday for Justice Ged Hawco.
Her mother then raced into her bedroom, and they locked the door with Pal on the outside.
"He started stabbing (Velji-Visram) and then me and my mom ran in my room and locked the door," the girl told Goertzen.
"My mom was trying to get her phone out of her purse and call 911."
Pal managed to kick the door in before the emergency call could be made.
As Pal, who faces two counts of second-degree murder, as well as a third charge of attempted murder for stabbing a third woman, entered the room Devi tried to escape, her daughter said.
"My dad just caught up to her and he started stabbing her really badly," the girl said.
Pal continued to chase and assault Devi as the victim tried to escape the basement suite, her daughter said.
"My mom just passed out on the floor by the side door and he just ran away."
During the attack, the landlord's daughter came downstairs and Pal stabbed her in the back, the girl said.
"I saw the whole thing happen," she said.
"There was a lot of blood."
"So you saw all of this happen?" Goertzen asked at one point.
"Yeah," the girl said.
"Whoof, that's really terrible," he said.
While the girl was composed throughout her conversations with police, she could be heard crying when left alone in the interview room.
In court, the now 13-year-old told Crown prosecutor Sonya Bertrand she only learned of her mother's death after the interview.
Hawco was impressed with the girl's demeanour.
"You've been amazingly composed and well-spoken," he told her at the conclusion of her evidence.
Before the trial began, defence lawyer Andre Ouellette once again raised concerns about his client's mental ability to understand the legal proceedings.
Pal had been declared fit to stand trial 10 days earlier, but Ouellette said his client appeared unclear on why he was in court.
When asked what his pleas were on the three charges Pal responded, through a Hindi interpreter, "I do not know."
At the lawyer's request, psychiatrist Dr. David Tano, who did the earlier fitness assessment, spoke to Pal over the lunch break and determined he still understood what was going on.
"We're not going to do this every day," Hawco told Ouellette after co-prosecutor Joe Mercier informed the court about the doctor's latest findings.
The trial continues on Tuesday.
BY KEVIN MARTIN
Source: calgarysun