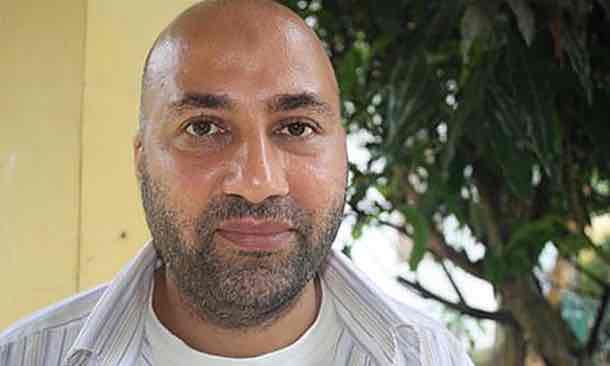 An Egyptian asylum seeker held in Australian immigration detention for five years without charge or trial, on the basis of information obtained under torture, is having his Interpol Red Notice reviewed by the global policing agency.  On 11 May 2012, Sayed Abdellatif arrived in Australia by boat with his wife and six children. All claimed asylum and have been assessed by the Australian government as having a prima facie legitimate claim to refugee status.  Abdellatif remains in Villawood detention centre – the rest of the family are in community detention, without valid visas and subject to curfews and conditions, but free to move in the wider community.
An Interpol Red Notice from Egypt in Abdellatif's name – years ago exposed as erroneous – has stalled his claim for protection.
From Villawood's high-security Hotham wing, Abdellatif told Guardian Australia that half a decade of indefinite detention – without charge, trial, or any suggestion of an ending – had torn at the fabric of his family and damaged his mental and physical health.
Abdellatif's Red Notice was based on a conviction in a 1999 show trial in Cairo that has since been discredited and its judgements overturned, because of false allegations and a reliance on evidence obtained by torturing prisoners.
The Australian government conceded as long ago as April 2015 that it knew the "evidence used against Mr Abdellatif in the Egyptian trial was obtained under torture".
Red Notices are Interpol's global alert system for wanted persons. In about one third of the 190 member countries (though not in Australia), police treat a Red Notice as an authority to arrest someone. But rights groups argue that the Red Notice system is abused by authoritarian governments to target enemies and silence dissent.  The human rights organisation Fair Trials has lodged a formal application with Interpol to have Abdellatif's Red Notice re-examined in full.
A three-year investigation by the Guardian has revealed numerous flaws in the case against Abdellatif. Allegations of murder, firearms offences and property destruction were never made against Abdellatif at his Cairo trial and were wrongly attached to the Interpol Red Notice.
After The Guardian's investigation Interpol took the extraordinary step of withdrawing those charges. The remaining convictions against Abdellatif, for "membership of a terrorist group" and "providing forged travel documents", relied on evidence obtained under "severe torture". He was convicted in absentia, without any chance of defending himself against the allegations. He has denied both charges. The United Nations human rights council has said Abdellatif's "arbitrary" detention is a "clearly disproportionate … deprivation of liberty" and stated he should be immediately released.
On the basis of these revelations, and the admission by Interpol that the most serious elements of the Red Notice were erroneous, Fair Trials has lodged a submission seeking to have Abdellatif's Red Notice reassessed.
Please see link below for the full article.
Source www.theguardian