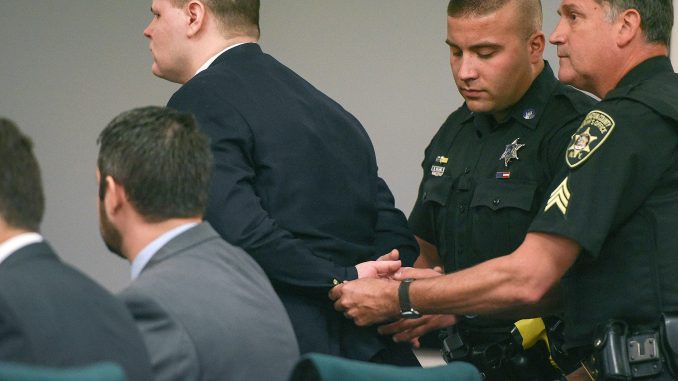 By Chris Harris
This week, for the second time in five years, jurors returned guilty verdicts against a New York man who fatally shot his mother, stepfather and stepbrother during the summer of 2011, PEOPLE confirms.
A court official tells PEOPLE that Matthew Slocum was convicted Tuesday of all charges, including second-degree murder, arson, tampering with evidence, petit larceny and weapons possession, and now faces at least 75 years behind bars when he is sentenced on July 14.
He could be sentenced to a life term. The jury deliberated for nearly six hours before returning the verdicts, according to the court official. (Neither prosecutors nor Slocum's defense immediately returned messages seeking comment.)
Investigators said that Slocum used a 12-gauge shotgun to kill his 44-year-old mother, Lisa Coon Harrington, her 41-year-old husband, Dan Harrington, and his 24-year-old stepbrother, Joshua O'Brien.
In the wake of the predawn slayings, Slocum set ablaze his mother's home in White Creek, New York, in an effort to destroy all of evidence of his crimes, according to authorities.
PEOPLE was unable to reach relatives of the victims, who spoke to the Albany Times-Union soon after the verdict was announced.
"I'm glad the justice system worked again," said John Harrington, Dan's brother. "I hope it's over. He's a guilty man. He's where he belongs."
"I feel vindicated … I feel justice finally is done," Ray Harrington, Dan's father, told the paper. "Let him pay for his crime. Let us put him in the rear-view mirror. Let us get back to our lives and go on."
At trial, prosecutors focused on letters Slocum had written to his girlfriend and another of his brothers, apologizing for his actions, though he did not make any direct references to the 2011 killings.
Slocum was initially convicted of the triple slayings in 2012 and was sentenced to 88 years in prison. But PEOPLE learns he was retried after an appeals court determined police had unlawfully obtained the 29-year-old's confession. He reportedly told police, "I just shotgunned my mother, dude."
The defense tried unsuccessfully to portray Slocum's girlfriend as the actual killer, court officials say. She testified against him at both of his trials, according to the Times-Union.
Source people.com