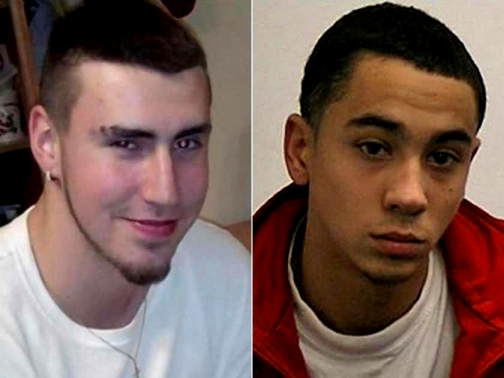 Kodey Carisse's last memories of her brother, Brandon Volpi, are of him laughing and smiling in his prom night photos.  Now, there is just an emptiness that comes with the sorrow of a life taken too soon, she told a judge in an emotional victim impact statement Thursday.  Carisse fought back tears as she told a packed courtroom how she never got to say goodbye to Volpi, who was stabbed and slashed to death outside of Les Suites Hotel following his grad on June 7, 2014.
In February, a jury found Devontay Hackett guilty of second-degree murder. He'll receive an automatic life sentence for the crime, although what remains to be decided is how many years of the prison sentence he must serve before he's eligible to be considered for parole.
Crown prosecutors asked for 12 to 13 years; his defence lawyer, along with 9 of the 12 jurors who found him guilty, recommended the minimum of 10 years. Ontario Superior Court Justice Charles Hackland intends to deliver his sentence on Monday.
"It doesn't get any better. The pain never goes away. It's there to haunt me forever," said Volpi's father, Danny, in his own victim impact statement, which was read by the prosecutor.
"I lost a part of me. I lost my only son. I cannot describe the pain, but I would not wish it on my worst enemy," Volpi wrote. "He was only 18. He had his whole life ahead of him."
Assistant crown attorney Mike Boyce said Hackett was "agitating for a fight" the night he killed Volpi, who went to St. Patrick's High School.
Volpi, who was sober and unarmed, was escorting his friend to a neighbouring hotel out of fear he'd be attacked by the then 18-year-old Hackett, who was drunk.
"He saw a friend who was in trouble and did the honourable thing and tried to assist him," said Boyce of Volpi. "He didn't bring any of this on. There is no motive for this. There is no explanation for what happened. This is senseless."
The attack took only moments, but Boyce said Hackett already had the knife out and recklessly used it. After the killing, Hackett fled and hid from police for a month.
Hackett's lawyer, Joe Addelman, said his client had a rotten upbringing. Both his parents had substance abuse problems and spent time in jail, Addelman said. Hackett was both a victim and witness to violence.
Hackett once told police that he carried a knife because his brother had himself been stabbed and killed.
But Hackett was also the first of his nine siblings to finish high school, Addelman said. He started working when he was 14 years old to provide for his own basic needs and intends to work hard in jail to rehabilitate himself so he can one day return to society.
"We're not talking about whether Mr. Hackett serves 10 years or 13 years or 15 years in jail," said Addelman. "He will serve a life sentence. Whether he gets parole or not will not be determined today."
Following his lawyer's submissions, Hackett rose in the prisoner's box and turned toward Volpi's family.
"I would like to take this opportunity to say I am genuinely sorry for the loss and emotional suffering this entire ordeal has caused to the Volpi family," Hackett said in a steady voice, even as many of those he spoke to broke down in tears. "A young man lost his life on prom night. It was a very tragic turn of events."
By: ANDREW DUFFY
Source: canoe.com