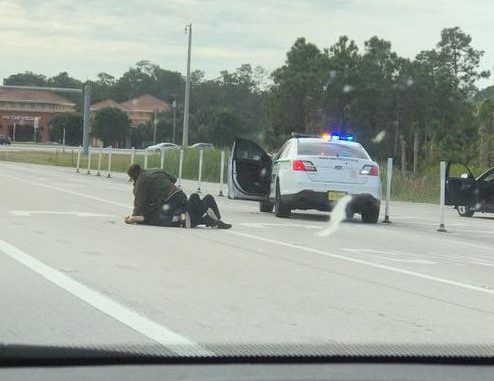 Good Samaritan has been called a hero after he shot dead a man who was beating up a police officer.  Ashad Russell was filmed as suspect Edward Strother rained punches down on Deputy Dean Barde in Estero, Florida following a police chase.
Police released the footage showing the cop being beaten as Russell approached. Officer Barde can be heard shouting 'Shoot him! Shoot him!'
He fired three shots, killing Strother who was pronounced dead at hospital. Around a dozen phones were used to film the incident. Not a single call was made to 911.
The incident happened in November, but footage has now been made public.
At the time Lee County Sheriff Mike Scott wrote on Facebook: 'Earlier this week, two heroes met on I-75 and while they had never met before, one would save the others life.
'Ironically, this was the first day in a while that Deputy Bardes was alone on patrol because as a Field Training Officer, he typically has a recruit riding with him to learn the business.
'I thank the hero that recognized the imminent threat, rushed to Deputy Bardes' aid, and ultimately stopped that threat.
'In a day and age where race is a near instant focus for media and other pundits in police incidents, the fact is that this hero happens to be a man of color who stopped another man of color from further harming or killing a white cop; thereby reminding us that black lives matter, blue lives matter, and indeed all life matters.'
By 
Source  metro.co.uk