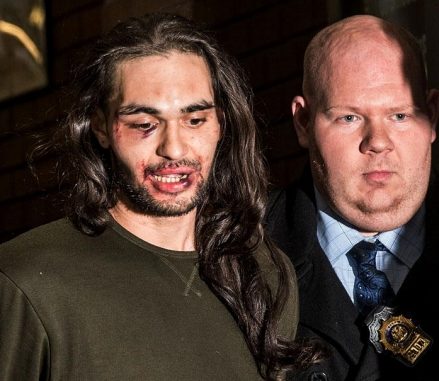 The long-haired madman accused of fatally mowing down an FDNY first responder with a stolen ambulance was surrounded by his victim's uniformed colleagues as cops escorted him from a precinct house in the Bronx early Friday.  Jose Gonzalez had a black eye and a busted lip as he was led out from the 43rd police station in the predawn hours.  More than 35 EMT workers, decked out in full uniforms, had gathered outside and heckled the accused murderer as he stared at them, his face contorted in a twisted smile.
"You're a piece of s–t," one EMT hurled.
"There's a special place in hell for people like you," another fired, as cops led the smirking Gonzalez to a squad car.
When a Daily News reporter asked what he had to say for himself, Gonzalez bluntly responded, "I've got nothing to say."
The 25-year-old Bronx man was slammed with three counts of murder, grand larceny and operating a motor vehicle while impaired by drugs.
Arroyo, a 44-year-old mother of five, and her partner pulled over their ambulance after noticing that Gonzalez was riding on its bumper, cops said.
As they slowed down, cops said the intoxicated Gonzalez jumped off and tried to steal someone's backpack. Arroyo got out to help — but forgot to close the ambulance cab door behind her, police said.
Gonzalez saw the open door as a warped opportunity and jumped into the ambulance driver seat, according to officials. As both EMT workers struggled with the man, the vehicle jolted backwards, knocking Arroyo to the ground.
Video of the subsequent horror shows Arroyo being dragged beneath the wheels of the massive vehicle for at least 15 feet before it slammed into a sidewalk.
Arroyo, whose lifeless body remained in the middle of the street, died at Jacobi Medical Center. Her partner, EMT Monique Williams, 31, was being treated for minor injuries at the Bronx hospital.
"EMTs are heroes who help countless New Yorkers every day," Gov. Andrew Cuomo tweeted on Thursday night. "Tonight's tragedy in the Bronx is horrible. My deepest sympathies to the family."
By:  AIDAN MCLAUGHLIN, CHRIS SOMMERFELDT
Source: nydailynews