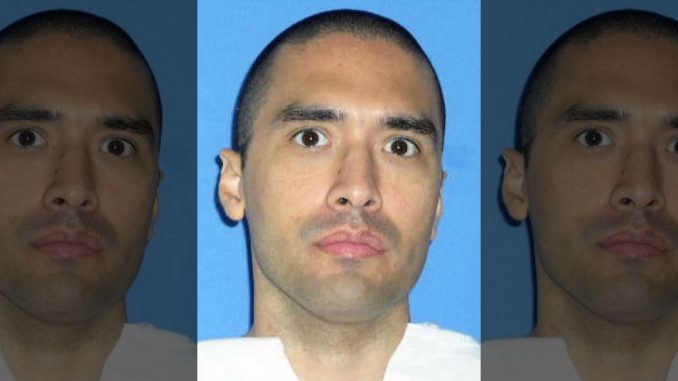 Texas hit man Rolando Ruiz, on death row for a life insurance murder plot, has been executed after being denied a reprieve by the U.S. Supreme Court.
The state executed Ruiz at 11:06 p.m on 7th March.
Ruiz had sought a reprieve in part because of the lengthy time he had spent on death row. Justice Stephen Breyer dissented in the decision to let the execution go ahead.
Ruiz had been on death row for 22 years, and his lawyers argued that his execution violated the 8th amendment because his solitary confinement was a "traumatic" condition.
The order of execution was in place until midnight on March 7. His execution was previously stayed twice, reported the Express News. The San Antonio newspaper reported that Ruiz "claimed that his attorneys did not properly represent him and follow leads in a psychologist's report that could have reduced his sentence."
Ruiz, now 44, was convicted of killing Theresa Rodriguez, 29, in 1992 for $2,000. "Evidence showed her husband and brother-in-law both orchestrated her contract murder."
The San Antonio woman was remembered as "naturally talented, excelling at everything she pursued — cheerleading, volleyball, piano, dance," according to the San Antonio Express-News. "She was born into a close-knit Catholic family, the oldest of six children."
According to the Texas Attorney General, "Ruiz was released from the Bexar County Jail where he was being held on a robbery charge. About six days later, on a Thursday, Ruiz was approached by Mark Rodriguez, who asked him if he wanted to make some money by robbing and killing Mark's sister-in-law, Theresa Rodriguez. Ruiz spoke with the victim's husband, Michael Rodriguez, at which time Michael instructed Ruiz that on the following Friday, July 10, 1992, Michael, Mark, and Theresa would go to the Macaroni Grill restaurant where he wanted Ruiz to rob and kill Theresa immediately after they arrived at the restaurant. Michael told Ruiz he would pay him one thousand dollars up front and another thousand when the job was complete, and Ruiz agreed."
According to the Texas AG, during the penalty phase of his trial, evidence was presented of past violent tendencies.
"Samuel Perez testified that he knew Ruiz to be violent and to carry guns. Kristian Villareal testified that she had also known Ruiz to carry guns, and that he frequently got into fights. She stated that, in her opinion, Ruiz did not have a conscience, and she was concerned Ruiz would shoot the police when they came to arrest him. Rudolfo Espinoza then testified that he and Ruiz were in a neighborhood gang called the 'Bad Boys,' and that Ruiz preferred to resolve disputes through the use of violence rather than verbally," the AG report says.
CBS News reported that Ruiz tried to fool the victim by approaching her husband for directions.
"As Theresa Rodriguez was getting out of the car, Ruiz put a .357 Magnum revolver to her head and fired," CBS reported, adding that the victim's husband stood to collect at least $250,000 in life insurance from his wife's death.
The Texas AG described what unfolded this way: "Mark (the victim's husband) told Ruiz that they were presently at the movie theater; Ruiz was to go there and follow them home. Ruiz followed them home from the theater where he parked his car, approached Mark, and pretended to ask for directions. Michael exited the car, opened the trunk and gave Mark a gym bag. Ruiz asked Mark, 'Do I do it?' to which Mark replied, 'Yes.' Michael got back in the car and parked it in his garage. Ruiz then walked up to the passenger side of the car and, as Theresa opened the car door, pointed the gun to her head and shot her once. Without taking her purse, Ruiz ran back to his car and drove away."
He then went to play basketball, showing no remorse, according to the San Antonio Express News.
Theresa Rodriguez's husband Michael was executed on 14 August 2008 in a separate case. After being sentenced to life in prison for the murder-for-hire plot, he broke out of jail and was implicated in the murder of a police officer.
The execution of Rolando Ruiz was the third in Texas in 2017.