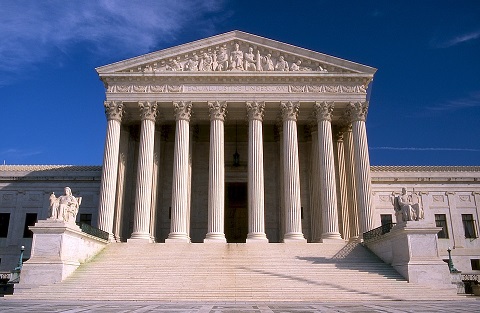 The top US court has ruled in favour of a Texas inmate who had argued it is his right to have his pastor touch him and offer a prayer during his execution.
John Henry Ramirez said the state's policy of not allowing spiritual advisers to touch inmates during executions violates their constitutional rights.
In an 8-1 ruling, the Supreme Court said his request could be carried out.
Ramirez was sentenced to death for killing a man during a robbery in 2004.
After Ramirez sued Texas last August, lower courts rejected his requests for his pastor to physically touch him and audibly pray as he died, and declined to block his execution.
Just before he was due to be executed in September 2021, a federal judge rejected his request for a stay for religious reasons.
At the time, the judge said that Texas had "compelling interest" in maintaining an "orderly, safe and effective" execution process, such as by preventing anything interfering with intravenous lines used for lethal injections.
The Supreme Court issued a stay that same month, putting the execution on hold.
In a majority opinion for the Supreme Court released on Thursday, Chief Justice John Roberts rejected the federal judge's argument, noting that a chaplain could feasibly touch a part of the inmate's body away from the IV lines, like the lower leg.
Additionally, Justice Roberts said that Texas "appears to have long allowed prison chaplains to pray with inmates in the execution chamber" and has only prohibited the practice recently. Texas banned all religious chaplains from execution chambers in 2019 after the Supreme Court granted a prisoners' request for a Buddhist monk.
Only one Supreme Court Justice, Clarence Thomas, dissented in Thursday's ruling. He wrote that he believes Ramirez "has manufactured more than a decade of delay to evade the capital sentence".
Following Thursday's ruling, the case will head back to the lower courts – which had earlier ruled in favour of Texas – for more litigating.
In his opinion, Justice Roberts said that more court proceedings "might shed additional light on Texas's interests", adding that Ramirez is "likely to succeed in proving that his religious requests are sincerely based on a religious belief".
In a statement, Ramirez's attorney Seth Kretzer said the Supreme Court decision "clarified that the rule of law is as ubiquitous as God" and that he looks forward to "prevailing in the forthcoming litigation about the issue".
Ramirez, 37, was convicted a stabbing a man 29 times in a robbery 18 years ago that prosecutors said netted the sum of $1.25 (£0.95). After the murder, he fled to Mexico and remained a fugitive there for years before being arrested near the US border.
To date, three people have executed in the US in 2022. Last year, 11 people were executed compared to 17 in 2020.
Source: bbc.co.uk