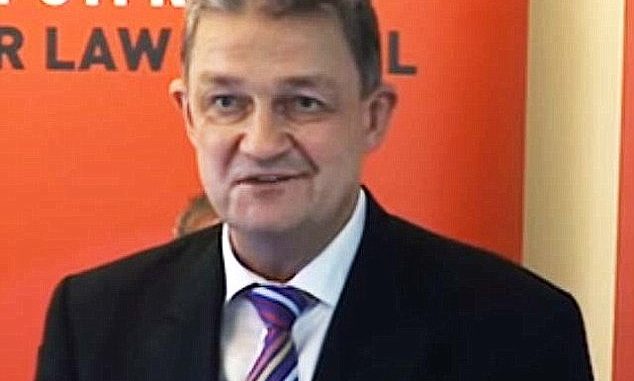 Four members of a child sex grooming gang are facing deportation to Pakistan after immigration judges rejected their appeals against their British citizenship being revoked. Ringleader Shabir Ahmed, Adil Khan, Abdul Rauf and Abdul Aziz, all from Rochdale, had their cases thrown out.  The men had appealed against moves by the Government to strip them of their British citizenship. But their claims were dismissed on all grounds by the Upper Tribunal of the Immigration and Asylum Chamber. The ruling paves the way for the men, all of Pakistani nationality who acquired British citizenship by naturalisation, to be removed from the UK.
Ahmed was convicted in 2012 of being the ringleader of a group of Asian men who preyed on girls as young as 13 in Rochdale, plying them with drink and drugs before they were 'passed around' for sex.  He was given a 19-year sentence at Liverpool Crown Court in May 2012 for a string of child sex offences, including rape.  He was also jailed for 22 years, to run concurrently, in July 2012 for 30 rapes against another victim.  Taxi driver Rauf, 47, a father-of-five, was released on licence in 2015 after serving half of a six-year sentence for trafficking a girl, aged 15, in the UK for sex, and for having sex with the youngster himself.
Handing down the judgment, Mr Justice Bernard McCloskey, president of the Upper Tribunal, said the cases were 'of some notoriety', and described the men's crimes as 'shocking, brutal and repulsive'.  He dismissed five different grounds of appeal – including an argument advanced by three of the men that the Government had failed in a duty to safeguard and promote the welfare of their children.  The ruling also dismissed a complaint of a 'disproportionate interference' with the men's rights as EU citizens and rejected claims concerning human rights laws.
Despite the ruling, the legal battle to deport the men could drag on for some time. There are further steps the Home Office must complete and the men will be able to appeal at later stages in the process.  The four can apply for permission to appeal against Thursday's decision.Applications can only be made on a question of law, and permission is granted in less than 10% of cases.
Ahmed, known as Daddy, previously took his case to the European Court of Human Rights (ECHR) claiming that his all-white jury was biased – a breach of Article 6 of the European Convention on Human Rights, guaranteeing a fair trial.  But judges in Strasbourg unanimously threw out his case, insisting that there was 'simply no proof' jurors acted improperly.
Earlier this week Justice McCloskey, Britain's most senior immigration judge has criticised taxpayer-funded lawyers of being 'cavalier and unprofessional' in helping them in their bid to stay in the country.  He launched the damning attack in response to the appeal against their deportation, ordered by then-Home Secretary Theresa May in 2012.
Justice McCloskey made the comments about the gang's solicitors, Nottingham-based firm Burton and Burton, in an immigration tribunal.  Justice McCloskey said: 'The conduct of these appeals has been cavalier and unprofessional. The rule of law has been weakened in consequence.'
The judge also threatened the legal team with disciplinary action, warning them their actions could be in contempt of court.  He added: 'Scarce judicial and administrative resources have been wasted in dealing with repeated unmeritorious requests by the Appellants' solicitors for an adjournment.'
Paedophile Shabir Ahmed, 63 – the ringleader of the Rochdale gang (left) and Taxi driver Abdul Aziz, 41, (right) both appealed the decision to strip them of their citizenship
Abdul Rauf (left) and Adil Khan (right), were the other two men who now face deportation back to Pakistan after failing in their appeals
ROCHDALE SEX GANG CASE
Twelve men were prosecuted for sex trafficking, rape, trafficking and engaging in sexual activity with a child.
The abuse occurred between 2004 and 2009 and the men were sent to trial in 2012.
Nine were convicted, of them eight were of British-Pakistani origin and one an Afghan asylum seeker. Three were not convicted.
Shabir Ahmed, 63, was the ringleader of a child sex exploitation ring, grooming girls as young as 13 for sex in Rochdale and Bolton. He was given a 19-year sentence for conspiracy, two rapes, aiding and abetting rape, sexual assault and sex trafficking.
Taxi driver Abdul Aziz, 41, was sentenced to nine years for conspiracy and nine years, concurrently, for trafficking for sexual exploitation.
Kabeer Hassan, 25, was sentenced to nine years for rape and conspiracy.
Taxi driver Abdul Huk was found guilty of sexual activity with a child and was jailed for four years.
Freddy Kendukumana, was convicted of rape and sexual activity with a minor and jailed for eight and a half years.
Roheez Khan was convicted of sexual activity with a minor and witness intimidation and jailed for 6 and a half years.
Greater Manchester Police and the Crown Prosecution Service came under fire for how they handled reported claims of rape and abuse and have since apologised.
Save
Save