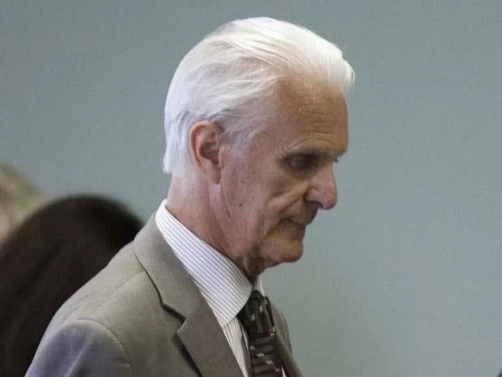 MONTREAL — A retired Quebec judge who says he was wrongfully convicted of murdering his disabled wife has failed in an attempt to be freed from prison while the verdict is reviewed. Lawyers for Jacques Délisle, an 81-year-old former justice of the Quebec Court of Appeal, have presented new ballistic evidence, which they say indicates the gunshot that killed Nicole Rainville was self-inflicted.
Délisle, who chose not to testify at his jury trial in 2012, is serving a life sentence. He filed a sworn statement in which he said he gave his partially paralyzed wife the loaded revolver when she begged him to help her end her life. But he said he left their apartment before she pulled the trigger on Nov. 12, 2009.
After failing to have the verdict overturned on appeal, Délisle has made a last-ditch attempt for a new trial under a section of the Criminal Code that allows the federal justice minister to intervene on the grounds of "miscarriage of justice." He was hoping to be set free while the Justice Department's Criminal Conviction Review Group carries out its lengthy investigation.
Justice Benoît Moulin of Quebec Superior Court ruled Wednesday that the new evidence does not meet the test required to justify his release: it is insufficient to conclude that "serious concerns" have been raised about the accuracy and reliability of the verdict.
Moulin acknowledged that Délisle, with no prior record or risk of re-offending, is not a danger to the public. But he said he has been found guilty of first-degree murder, and the defence failed to persuade him that its new evidence would lead to an acquittal.
"In these circumstances, the confidence of the public in the administration of justice requires that Mr. Délisle continue to serve his sentence," he wrote.
The Crown's position is that the trajectory of the bullet and the location of gunpowder traces on Rainville's hand are incompatible with her firing the gun. Ballistic experts testifying on Délisle's behalf suggest a different trajectory, and contend that the death was likely suicide.
Moulin said the Crown and defence ballistic experts are in disagreement, but none of them excludes the possibility of a homicide. And he noted that the jury was not motivated by ballistic evidence alone. It also was influenced by Délisle's behaviour after his wife's death and by testimony that he was planning to leave her to live with his mistress.
Délisle's decision not to testify in his defence surprised observers at the time, and now he says it was because his family did not want it known that he had aided in his wife's suicide.
He admits in his statement that he lied to police when he claimed it was Rainville who fetched his loaded gun. In his sworn statement, Délisle says he placed the gun on a table in front of Rainville but asked her to reconsider.
"The last thing I said to her: 'Think of us. Give it serious thought. I love you,' " he said.
By: GRAEME HAMILTON
Source:  OttawaCitizen.com