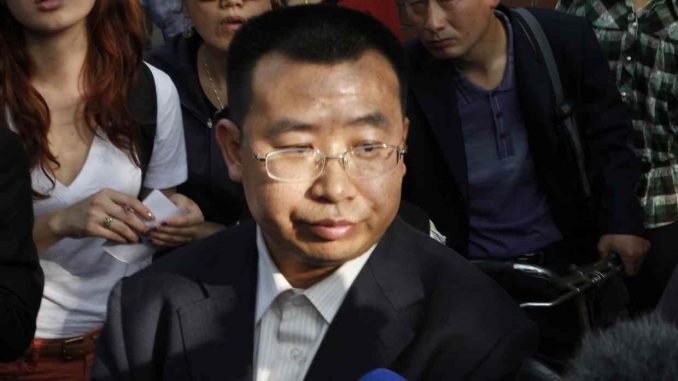 United Nations human rights experts are demanding answers from Beijing over the disappearance of a prominent Chinese lawyer they fear has been targeted by authorities in reprisal for meeting a UN official earlier this year.
Jiang Tianyong, a 45-year-old Christian lawyer known for defending a number of prominent human rights activists, has not been seen since 21 November. Relatives and supporters believe he has been taken into secret custody by security forces.
Jiang's unexplained disappearance comes amid what appears to be a fresh wave of detentions targeting Chinese activists.
In a statement released on Tuesday by the office of the UN high commissioner for human rights in Geneva, the group said it suspected Jiang had become one of the latest victims of that campaign: "We cannot rule out the possibility that Jiang may have been disappeared by state agents because of his human rights work.
The UN experts noted that as a result of his longstanding human rights work Jiang has been repeatedly targeted by Chinese police and agents from its powerful spy agency, the ministry of state security, which is tasked with tackling political threats to the Communist party.
"We fear that Jiang's disappearance may be directly linked to his advocacy and he may be at risk of torture," said the statement.
Philip Alston, the UN's special rapporteur on extreme poverty and human rights, said he was "deeply concerned that Jiang's disappearance has occurred, at least in part, in reprisal for his cooperation with the UN during my visit to China".
Alston conducted a nine-day fact-finding mission in August, telling reporters in Beijing that President Xi Jinping's crackdown on dissent risked causing mass unrest.
"The international standards are clear: states must refrain from and protect all persons from acts of reprisal," Alston said on Tuesday of Jiang's disappearance.
The UN representative claimed others he met during his trip to China were also subjected to apparent reprisals. "Governments must provide assurance that no persons will suffer intimidation, threats, harassment or punishment … for their cooperation with the UN experts."
The statement, which also has the backing of Michel Forst, the special rapporteur on the situation of human rights defenders, and David Kaye, the special rapporteur on freedom of expression, came as activists said Li Heping, one of the most prominent Chinese lawyers caught up in last year's clampdown, had been indicted on unknown charges.
Li has not been heard from and has been deprived of all contact with his family since he was taken from his Beijing home on 10 July 2015. He is expected to be tried in the coming weeks.
Eva Pils, a King's College London scholar who knows Li, said she believed her friend was being denied independent legal counsel.
"The authorities claim that Li Heping has appointed his own lawyers and dismissed the family-appointed ones," she said. "This is wholly unconvincing."
Pils said Li's wife and the spouses of other jailed lawyers continued to be subjected to "all kinds of reprisals merely for trying to find out what is happening to their husbands".
The German press agency DPA reported that French and German diplomats had been summoned by Chinese authorities after their governments honoured Li's wife, Wang Qiaoling, with a human rights prize recognising her "tireless dedication to representing the families of lawyers and activists held in China".
In response, French and German officials called for Li's immediate release, "in accordance with the rule of law, as set out in the Chinese constitution".
Source https://www.theguardian.com/world/2016/dec/06/un-human-rights-china-missing-lawyer-jiang-tianyong