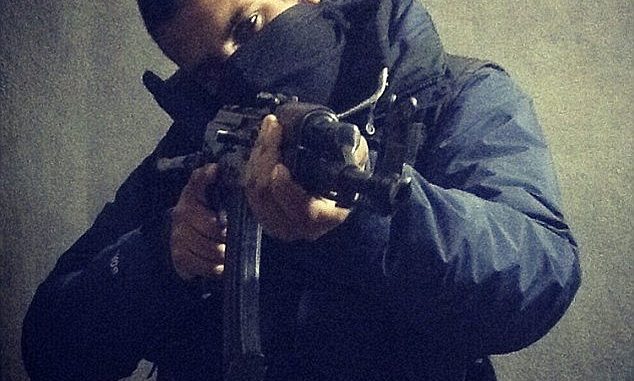 Junaid Hussain used the internet to recruit American Munir Abdulkader, a Cincinnati university student until last year, to behead a US soldier whose family home address had been hacked from military records.
Hussain, 21, was number three on America's ISIS target list before he was killed in a US drone strike last year. He was a key target due to his computer hacking skills and his work as an ISIS recruiter.
Hussain, from Birmingham, was married to Sally Jones, a middle-aged rocker turned Muslim convert from Kent, who was nicknamed 'Mrs Terror'.
Eritrea-born Abdulkader, 21, who became a US citizen in 2006, was to behead the US soldier and launch a suicide attack on a police station. He was caught by a US double agent who was working with Abdulkader and arranged for him to purchase the weapons. As soon he bought the guns, security services swooped.  Abdulkader later admitted the terror plot and is to be sentenced in the next few weeks.
Newly released American court documents from the District Court, Southern District of Ohio, relating to his case, reveal the extent of the close contact and communications between the two men.
The documents, obtained by the Program on Extremism at The George Washington University, say, 'Hussain's plan was for them to raid a soldier's home, behead him, record it, send the recording to him. Once this attack was completed, the Defendant was to go to a police station, throw pipe bombs, engage the police officers with firearms, and then fight to the death.'
Hussain, according to the court documents filed last week, even suggested Abdulkader wear the beheaded soldier's uniform to the police station.