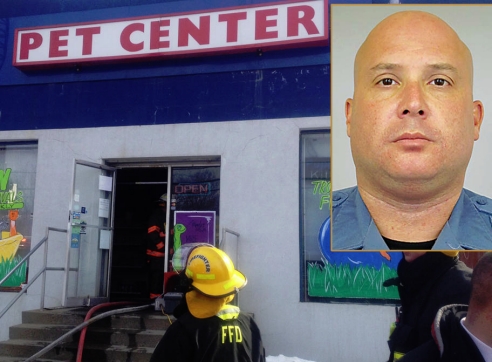 Police were the first responders to arrive at a fire in a Franklin, New Jersey pet store last February.  When Officer Rafael Burgos was satisfied there were no people in the building; he began to rescue the frightened caged animals.
Burgos rescued all the pets inside the building as other officers evacuated nearby businesses.  More than a dozen cats, dogs, birds and other animals made it out alive thanks to the quick thinking of Officer Burgos and others who helped the first responders.  None of the pets were reported injured in the blaze.
The building was already filled with smoke when Officer Burgos began evacuating the pets.  Many could have perished due to the smoke and fire.  Burgos was taken to a hospital for treatment of smoke inhalation.
Some pets were given shelter by neighbors and others were taken to a veterinary center for care.