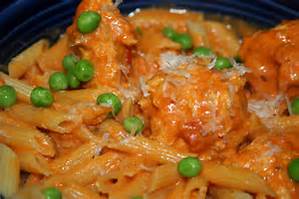 Special thanks to WJN member Nylinn7, who shared one of her crowd pleasing Italian recipes with us. Measurements are approximate, since Linny cooks with love and not teaspoons…
This one's for you, trialwatcher000!
LINNY'S PASTA CELLO
Brown boneless chicken breasts…about 1 pound…with garlic, and chopped onions in olive oil.  When browned, cut into cubes and set aside.
Pour one large can chopped tomatoes into large pot, add chicken and simmer for about 20 minutes
After the 20 minutes, slowly add 1 pint heavy cream (sauce will turn a pink color).
Add to the sauce, 1 can chopped artichoke hearts,  1 cup frozen peas,  1/4 lb. chopped prosciutto, salt, pepper and fresh parsley for color.  Simmer for 5-10 minutes.
Pour sauce over any kind of pasta (1 pound) …we like penne.  Serve with grated Italian cheese and more parsley for garnish.  Serve with warm crispy Italian bread.