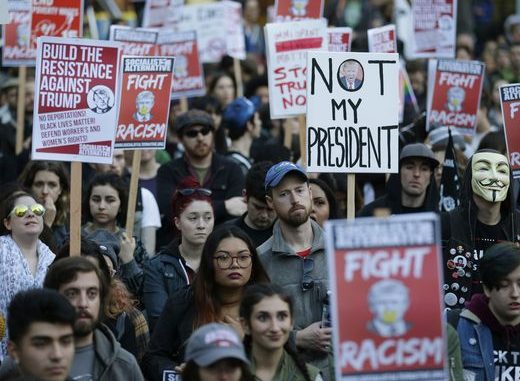 Opponents of President-elect Donald Trump crowded into the streets across the country Friday night and early Saturday morning as protests continued following Hillary Clinton's surprise loss in the White House race.
By now, the chants have become familiar: "Love Trumps Hate," "Hey hey, ho ho, Donald Trump has got to go," and still others buoyed by expletives.
The protesters say they are aware their words and actions cannot reverse Tuesday's decision, but many said they want to raise awareness about their opposition to a campaign that included revelations about disparaging remarks Trump made regarding women and threats to build a wall between the United States and Mexico to keep immigrants out.
In Los Angeles, about 1,000 protesters marched through the city's downtown streets. As they had in the past, many carried signs.
They marched past city hall down Spring Street. They were followed by a cordon of police cars and were being carefully monitored to see if they were involved in vandalism or violence. Protestors fanned out across the entire street, but it was unclear where the crowd was headed. They also disrupted traffic as they were seen walking between cars that had been brought to a halt.
The protests comes a night in which more than 150 were arrested. Demonstrations are expected to continue Saturday as protesters are planning to march through one of Los Angeles' largest Latino communities —MacArthur Park.
The scene was more chaotic in Portland as protests turned violent for a second straight night. Demonstrations began as a peaceful rally at City Hall on Friday afternoon only to be stopped by police after protesters reportedly split into groups and vandalized parts of the city.
Through the night, flash bangs and tear gas were used to disperse protesters. Police advised the crowd that their gathering was considered an unlawful assembly and they were subject to arrest.
Trump said via Twitter on Thursday that the protests are being fueled by the media, and he called them "unfair" — but he backpedaled Friday morning, tweeting that he loves that "the small groups of protesters … have passion for our great country. We will all come together and be proud!"
In Miami, hundreds of young people packed into Bayfront Park shouting "Not My President" and "Black Lives Matter" as they bounced signs above their heads reading "Hate Ain't Great" and "You're Fired," a reference to Trump's reality TV show The Apprentice.
The crowd, numbering into the thousands, also blocked both lanes of Interstate 395 for about half an hour before proceeding downtown.
In New York City, demonstrations organized by two teens too young to vote assembled Friday afternoon in Greenwich Village and, again, in front of Trump Tower in Midtown.
In Chicago, demonstrators marched through downtown during the early evening.
In Atlanta, demonstrators marched down Ponce de Leon Boulevard, saying they were frustrated not only with Trump's win but also with the concept of the Electoral College.
In Salem, Ore., hundreds of students, staff and community members demonstrated at Willamette University, stressing their gathering was not anti-Trump but more against racism, homophobia, xenophobia and sexual assault, said Nate Dausman, one of the organizers.
In Burlington, Vt., about 200 people gathered in City Hall Park, heeding a call issued via Facebook by University of Vermont sophomore Emily Flaherty. The 20-year-old said it was the first time she'd done anything like this.
"The election of a man who has bragged about sexually assaulting women, called them pig and dogs, who is unapologetic about his conduct, makes me feel unsafe and sick," Flaherty said.
Former Vermont state legislator Judy Rosenstreich encouraged those in the crowd to use their emotions to propel them into politics and public service.
"Regardless of the fact that Trump was elected, we're not going to compromise a single advancement we have made," Rosenstreich, a Democrat, told the crowd.
In Iowa City, Iowa, hundreds of demonstrators marched through downtown and shut down Interstate 80. Earlier Friday, about 200 students walked out of classes at City High School, marching into downtown.
Armani Smith, a 17-year-old senior, said he helped stage the walkout that included a march through streets packed with traffic.
"After the election, a lot of people at City High were down, crying, very sad — a lot of teachers were crying," Smith said. "Basically who I'm looking to is Martin Luther King. He taught me a lot of things when I was young, that peaceful protest can accomplish some change in society."
Source: usatoday.com
Contributing: Chris Woodyard and Charles Ventura from Los Angeles, Dan D'Ambrosio of the Burlington (Vt.) Free Press, Lamaur Stancil of The Treasure Coast News, Lauren E. Hernandez of the (Salem, Ore.) Statesman Journal, the Iowa City Press-Citizen, WXIA-TV, Atlanta, and KGW-TV, Portland, Ore.