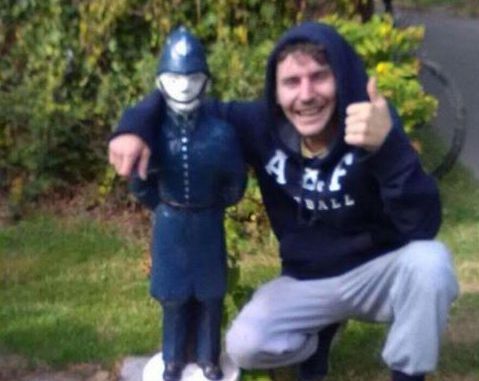 A man who taunted police by writing 'catch me if you can' on Facebook was caught – and is now starting a prison sentence.
Harry Brackpool attacked his girlfriend Yasmin Fitzmaurice, the mother of his daughter, before going on the run when officers tried to track him down.
The 24-year-old, of Curteys Walk, Crawley, West Sussex, took a selfie with a patrol car in the background, posted a news story about the manhunt and posed with a statue of an officer.
Brackpool was previously jailed for harassing his girlfriend, 18 – but on his release earlier this year, Miss Fitzmaurice overturned the restraining order preventing him from contacting her and the couple resumed their relationship.
However, he became suspicious when their daughter started talking about 'Tyler-man', and suspected Miss Fitzmaurice was seeing someone else.
A judge at Guildford Crown Court was told he called her, telling her he was on his way to her home in Surrey to beat her up.
The two reconciled, but the next day Brackpool found a note on Miss Fitzmaurice's phone that she planned to send to another man, who the victim was not in a relationship with.
He punched her in the face, and later in the morning he spat at her and threw ketchup around the flat before forcing her to take a train to Crawley.
There, he punched her and hit her with a piece of wood, and Miss Fitzmaurice alerted police when she got home
Defending, Martha Walsh told the court: 'There is nothing I can say about these offences, they are appalling.
Prosecutor William Saunders said the victim was forced to move house because of Brackpool.
He said: 'She is basically terrified of him and is in constant fear about what he will do when he is released.'
The judge, Mr Recorder Humphrey Malin, told Brackpool: 'This was very unpleasant behaviour, spitting at her on a train and you put ketchup on the wall. Just horrible.
'You have not responded to previous sentences. If you were an older man than you are, I would be thinking five years for assaulting this girl in this cowardly fashion.
'You are dealing with a younger person, and some of the offending was in front of a child who at the time was between two and three years old.'
Brackpool admitted three counts of assault by beating, one count of causing actual bodily harm and one count of causing a person fear and distress through harassment, and was jailed for 32 months.
The judge also handed him an indefinite restraining order.
Source: metro.co.uk