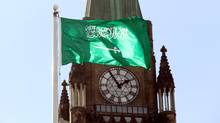 Canadian public officials met with the Saudi Arabian state-backed human rights commission, a controversial body that publicly supported the Islamic kingdom's mass executions earlier this year.
Human-rights advocates say they fear that treating the Saudi Arabian Human Rights Commission as a serious watchdog plays into the Riyadh government's efforts to bolster its reputation at a time when it is accused of violating international humanitarian law with aerial bombing in Yemen, locking up dissidents and discriminating against women and religious minorities.
Following a $15-billion deal to sell weaponized armoured vehicles to Saudi Arabia , Canada's relationship with Saudi Arabia has come under intense scrutiny because of Saudi Arabia's abysmal human-rights record. The country's chief envoy to Canada earlier this year called the contract a goodwill gesture to cement friendship between the two countries.
A meeting on Wednesday was said to "focus on the importance of women and girls as powerful agents for change."  According to Freedom House, a U.S. democracy watchdog, in Saudi Arabia "women are not treated as equal members of society, and many laws discriminate against them. They are not permitted to drive cars and must obtain permission from a male guardian in order to travel within or outside of the country."  Also under discussion are a full range of human rights issues.