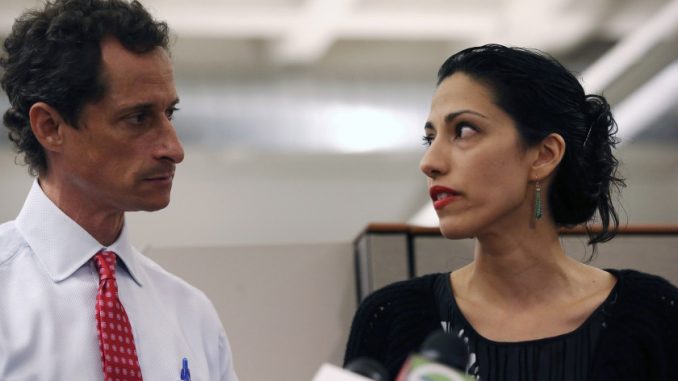 The FBI has obtained a warrant to start reviewing emails found on a laptop used by top Hillary Clinton aide Huma Abedin and her husband Anthony Weiner, according to reports from US media.
The Wall Street Journal says the number of emails could total 650,000 – though not all of them are expected to be relevant to the Clinton investigation.
This comes after Friday's bombshell that the FBI was again reviewing emails related to the Democratic presidential candidate's private server.
In a letter to Congress, the agency's director, James Comey, said new information had prompted an additional review of the case that ended in July.
Former Congressman Mr Weiner is being investigated separately after claims he exchanged illicit text messages with a teenager.
The FBI conducted a months-long investigation into whether Mrs Clinton had broken the law by using a private email server during her time as US Secretary of State, by allowing sensitive information to be discussed outside a secure government account.
The FBI concluded that while Mrs Clinton had been "extremely careless" she had not committed a crime.
Mr Comey's disclosure has sent shockwaves through the final days of the presidential race.
Senate Democratic leader Harry Reid says Comey may have broken the law by making the disclosure at this stage of the campaign.
He claims the FBI director appears to be aiding one political party over another – a move that may violate the Hatch Act, which bars government officials from using their position to influence an election.
Donald Trump told a rally in New Mexico on Sunday that the FBI had found the "mother lode".
"How do you have that many emails? What do you do, sit down all day and just keep typing?" he asked.
"No wonder nothing gets done in our country."
He added: "This is the single biggest scandal since Watergate."