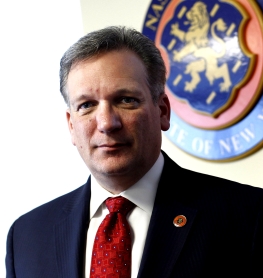 In connection with a 13-count federal indictment, Nassau County Executive Edward Mangano, his wife Linda and Oyster Bay Town Supervisor John Venditto were arrested.   Charges include: conspiracy to commit bribery, bribery, conspiracy to commit honest services fraud, honest services fraud, and extortion.
Mangano is a Republican and the top elected official in Nassau County.  The county is east of New York City on Long Island.  It is one of the top 50 wealthiest counties in the United States.
Robert Capers, U.S. Attorney for the Eastern District of New York said: "Yet again, we announce a breach of trust by two of our public officials."
A co-conspirator, who was not identified, owned businesses, including restaurants in Queens, New York, and operates food concessions for county agencies.   Prosecutors allege Linda Mangano was paid $450,000 during an approximate 4 year period for doing little to no work for the co-conspirator.
Prosecutors and the U.S. Federal Bureau of Investigation unsealed the 20-page indictment on Thursday. Federal agents used two search-and-seizure warrants for Mangano's residence and office.  William Sweeney, FBI assistant director in charge said: "Public corruption wastes countless tax dollars every year, threatens the credibility of governmental institutions, and opens the door for further criminal activity."
Mangano's arrest marks the latest in a string of corruption cases brought by federal prosecutors against local officials on Long Island.