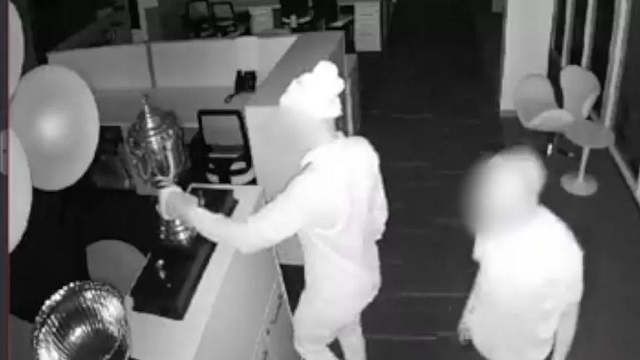 Burglars have broken into South Africa Rugby Union's offices and touched the World Cup trophy they won in France but they did not steal it.
The burglary took place on Monday in Cape Town's northern suburbs at the Tygerberg Office Park in Plattekloof.
Videos have been shared by a local journalist on X showing men enter a room where the replica of the William Webb Ellis trophy is stored.
The men approach the trophy but continue to look around for loot.
The break-in happened at around 22:00 local time (22:00 GMT) and Western Cape police were told of concerns that the trophy had been stolen.
The police recorded two cases of business burglary after two incidents at the office park.
They then forced open a window on the ground floor to gain entry to the building and began searching for items.
In footage which has been shared on X by South African journalist Yusuf Abramjee, one of the burglars puts his gloved hand on the trophy, lifting it slightly, before moving to the cupboards beneath it.
They leave the trophy behind and instead steal whisky, five signed Springbok jerseys and eight laptops.
Local media also reported that 60 laptops were taken from the other company in the same park.
A South Africa Rugby Union spokesperson told the BBC that all trophies, including the Webb Ellis Cup, are safe.
Source: bbc.co.uk