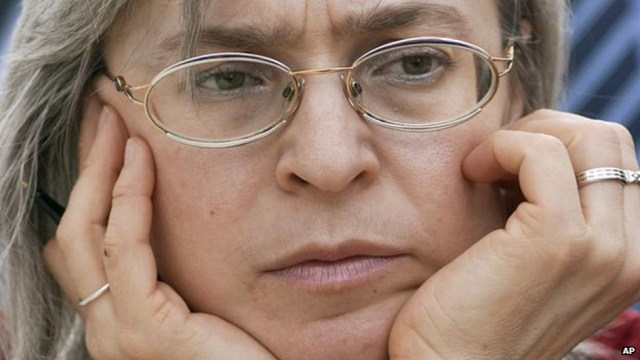 One of the men convicted over the 2006 murder of Russian journalist Anna Politkovskaya has been pardoned after fighting in Ukraine, his lawyer says.
Sergei Khadzhikurbanov, a former Moscow police officer, was jailed for 20 years at a trial in 2014.
But his lawyer, Alexei Mikhalchik, said he had now received a presidential pardon after completing a six-month military contract.
He was one of five people convicted of the crime.
Ms Politkovskaya, an investigative reporter and vocal critic of Russia's war in Chechnya, was shot in a lift in her block of flats.
Her reporting for Novaya Gazeta newspaper won international renown for her dogged investigation of Russian abuses in Chechnya.
But her pieces, which were highly critical of President Vladimir Putin, then serving his second term, and the Chechen leadership, angered many in authority.
Khadzhikurbanov was found guilty of providing logistical support for the murder.
"As a special forces fighter, [Khadzhikurbanov] was invited to sign a contract to participate in the special military operation," his lawyer told AFP.
"When the contract expired, he was pardoned by presidential decree."
The Russian defence ministry has been recruiting prisoners to fight in Ukraine, apparently taking over from the Wagner mercenary group which was the first to adopt the practice last year.
His uncle Lom-Ali Gaitukayev, one of those found guilty of organising Ms Politkovskaya's murder, was also jailed for life.
Makhmudov's two brothers, Dzhabrail and Ibragim, were sentenced to 14 and 12 years in a penal colony.
It has never been determined who ordered the killing.
Source: bbc.co.uk