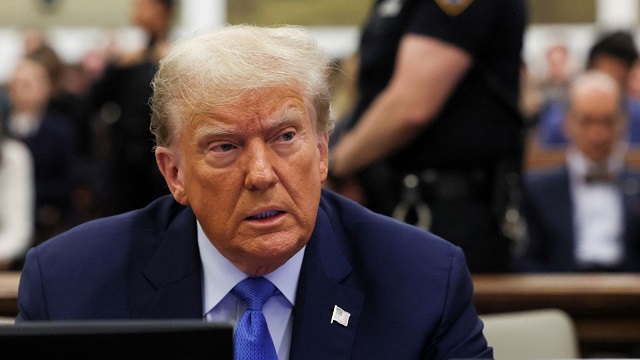 Donald Trump was warned to avoid "political" speeches and "just answer the questions" while giving evidence in his civil fraud trial, with the judge threatening to remove him from the courtroom in a series of tense exchanges with his legal team.
The former US president is accused of inflating his net worth. He denies any wrongdoing.
Trump briefly appeared in the dock last week and was fined $10,000 (£8,200) for breaching a gag order that barred him from personally attacking court staff in his fraud trial.
After being sworn into the dock and confirming his address, early exchanges included questions about ownership of his Trump Organization and make-up of the board, as well as the appointment of his son Donald Jr to oversee the business.
Trump also told the court he expected to remain in politics beyond 2021 when he left office.
Inside court, NBC's Adam Weiss said proceedings could get "very tense", adding Trump appeared to be going off on tangents.
At one point, according to NBC, Judge Arthur Engoron asked Trump's legal team to "control" their client, adding "this is not a political rally" and telling the former president "please, just answer the questions, no speeches".
Later, Judge Engoron told Trump's lawyer Chris Kise to "control" him, otherwise he would be dismissed from the stand.
When asked by the prosecution if a statement about the valuation of a property on Wall Street was accurate, Trump began to talk about the statute of limitations.
The judge replied: "Mr Kise that was a simple yes or no question. We got another speech. I beseech you to control him if you can. If you can't, I will. I will excuse him and draw every negative inference that I can."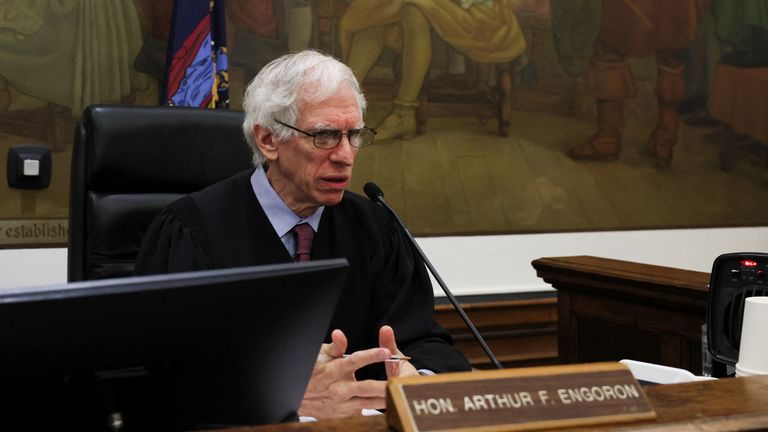 Trump calls judge a 'fraud'
Trump later turned his ire on Judge Engoron, saying he ruled against him before knowing anything about his company.
Judge Engoron has already ruled the Trump Organization inflated its wealth – the trial is determining the punishment.
Raising his voice from the witness stand, he called the judge a "fraud," while pointing his right hand at him and looking out into the courtroom.
Trump added that any fraud was on the part of the judge for his comments on the value of his properties, not on him, calling it "a terrible thing."
After his comments, Kevin Wallace, a lawyer for the attorney general's office, asked Trump if he was "done".
"Done," Trump replied.
Trump also reiterated his disdain for Attorney General Letitia James, who has brought the charges against him.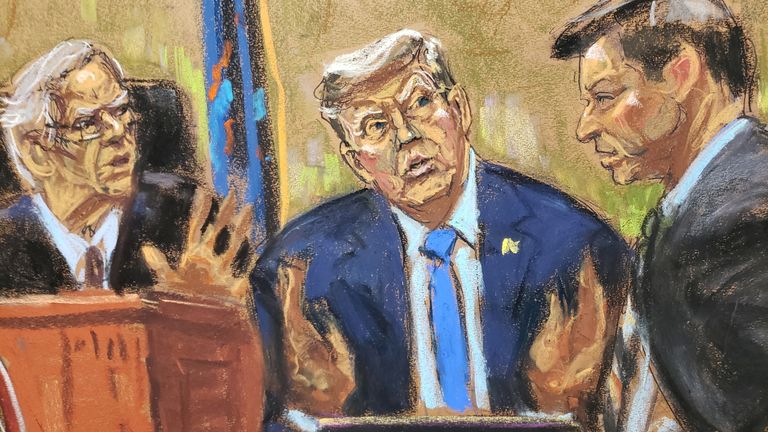 'We'll explain as this crazy trial goes along'
Elsewhere, Trump told the court financial estimates of some of his properties were inaccurate, while also minimising the importance of the valuations.
He is accused of inflating his net worth to gain better financing terms with banks.
Trump said: "They just weren't a very important element in the bank's decision-making process, and we'll explain that as this trial goes along, as this crazy trial goes along."
Before the court adjourned for a break, Trump leaned into the microphone and said: "This is a very unfair trial. Very, very [unfair] and I hope the public is watching."
His evidence is not being televised.
After a break, Trump appeared to act calmer than he was during the morning session, but did tell the court his net worth was "financially more than what was on the financial statements," before adding: "Therefore you have no case."
Trump's daughter Ivanka will testify later in the week.
Speaking outside the courtroom as he arrived on Monday, Trump said it was an "unfair" situation, adding: "These are political operatives that I'm going to be dealing with right now. You have a racist attorney general who's made some terrible statements and you see some more that came over the wires today.
"It's a very sad situation for our country. We shouldn't have this. This is for Third World countries. And it's very unfair. It's very unfair."
Before arriving at court on Monday, Trump wrote on his social network Truth Social: "Got a really Biased, Nasty, Club controlled, but often overturned, Judge, a Racist, Evil, and Corrupt Attorney General, BUT A CASE THAT, ACCORDING TO ALMOST ALL LEGAL SCHOLARS, HAS ZERO MERIT. A dark day for our Country. WITCH HUNT!"
His turn in the witness stand marks a significant moment in his 2024 presidential campaign, in which he is currently leading Joe Biden in a number of key states, according to a new poll.
Source:  
news.sky.com