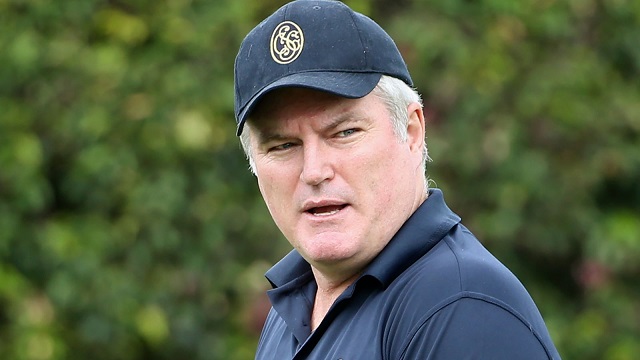 Former Australian leg spinner Stuart MacGill has been charged by police for his role in a plot to import more than $300,000 worth of cocaine.
The 52-year-old Sydneysider has been tangled up with police since he was allegedly kidnapped, bashed and dumped out of a car in 2021 which is now believed to have been in relation to the drug deal.
Following an investigation that stretched back to his alleged kidnapping MacGill was arrested by police from the Robbery and Serious Crime Squad at 6pm on Tuesday before being released on bail.
On October 26 MacGill will face Manly Local Court over one charge of taking part in the supply of a large commercial quantity of cocaine.
According to a Daily Telegraph report detectives will allege MacGill was the middleman in a deal between one person trying to sell a kilogram of cocaine to another person for more than $330,000 in 2019.
MacGill also allegedly had a $1,000 cocaine debt owed to one of the players but it was erased as part of the deal.
In 2021 the 44 Test veteran was kidnapped from outside his home in Sydney's Cremorne before being bashed, stripped naked and dumped at a remote location in the city's south west.
"It was not something you'd even like to happen to your worst enemy," MacGill said last year.
"I didn't know where we were, I didn't know where we were going and I was scared. From that point, they stripped me naked, beat me up, threatened me and then just dumped me. That was over the course of maybe three hours out in the middle of nowhere in a little shed.
"I was scared, I was humiliated and I really didn't know what was going to happen. Then they chucked me back in the car and dropped me in Belmore, and I didn't really know where I was then either, to be honest."
Six people were charged over the alleged kidnapping and the drug deal but police had previously stated publicly that MacGill was an innocent victim who unknowingly introduced the two men involved in the drug deal.
The maximum sentence for the charges MacGill is facing is life imprisonment.
Source:  
skynews.com.au