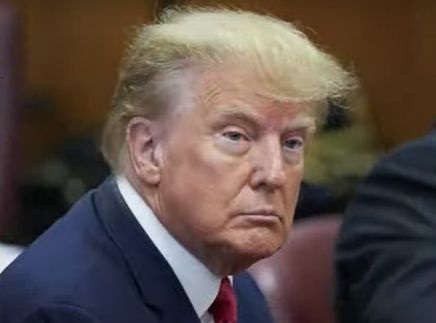 A federal judge has set a trial date for Donald Trump in the classified US documents case in Florida – one of several legal battles he faces as he campaigns to regain the presidency.
It comes after he was charged with illegally retaining hundreds of secret papers.
The date has been set for 20 May next year by US District Judge Aileen Cannon.
It is being seen as a compromise between prosecutors wanting to schedule the trial this December and a request from Trump's lawyers to have it after the next presidential election in November 2024.
Last month, Trump pleaded not guilty to 37 federal charges that he unlawfully kept national security documents when he left office and lied to officials trying to recover them.
Authorities say he schemed and lied to block the government from getting hold of the documents, concerning nuclear programmes and other sensitive military secrets, stored at his Mar-a-Lago estate in Florida.
Also last month, a recording emerged of Trump in July 2021, six months after his presidency ended, saying he was holding secret documents he didn't declassify while he was commander-in-chief.
The two-minute recording suggested he was holding classified information about the Pentagon's plans to attack Iran.
Trump is the first former US president to be charged with federal crimes.
It was the second courtroom visit for Trump in recent months. In April, he pleaded not guilty to state charges in New York stemming from a hush-money payment to porn star Stormy Daniels. He is set to face trial in Manhattan on 25 March 2024 over those charges.
Earlier this week, Trump said he has received a letter notifying him he is a target in a US Justice Department investigation into attempts to undo the results of the 2020 presidential election.
Such a letter often precedes an indictment and is used to advise individuals that prosecutors have gathered evidence linking them to a crime.
Special counsel Jack Smith has been tasked by the US Attorney General Merrick Garland with examining Trump's role in the 6 January attack on the Capitol and his alleged mishandling of government records.
More than 1,000 people accused of participating in the Capitol attack have been charged.
Trump is currently the frontrunner in the race to become the Republican candidate for next year's election as he plots a possible return to the White House.
Read more:
Florida is 'Trump country' and it doesn't seem that any indictment is going to change that
Trump indictment 'shocking' and portrays him as a 'great threat' to US defence
Trump has repeatedly proclaimed his innocence and accuses Democrat President Joe Biden's administration of targeting him.
He has called Mr Smith a "Trump hater" on social media.
Mr Smith accuses Trump of risking national secrets by taking sensitive papers with him when he left the White House in January 2021 and storing them in a haphazard manner at his Mar-a-Lago estate and his New Jersey golf club, according to a grand jury indictment.
Photos included in the indictment show boxes of documents stored on a ballroom stage, in a bathroom and strewn across a storage-room floor.
Source:  
news.sky.com