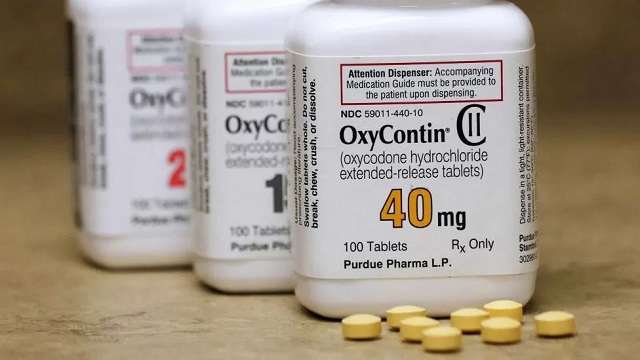 The billionaire owners of Purdue Pharma will be protected from lawsuits linked to the US opioid crisis in exchange for a $6bn (£4.85bn) settlement.
Purdue, which filed for bankruptcy in 2019 amid thousands of lawsuits, made drugs like OxyContin and is blamed for fuelling the crisis.
On Tuesday, an appeals court ruled that its owners, the Sackler family, would receive full immunity from civil suits.
In exchange, they will pay $6bn to help address opioid addiction.
A 2021 investigation by the US House Oversight Committee indicated that members of the family, "who have owned a controlling share of Purdue Pharma since 1952, are collectively worth a total of $11bn".
The family have long demanded civil immunity, and the court's ruling removes a key barrier to the money being paid out.
The payments will be spread over multiple years. Funds will go to local and state governments and is expected to fund rehabilitation programmes and other addiction treatments. Roughly $750m of the settlement will be distributed to individual victims of the opioid crisis and their families.
A three-judge panel of the US Court of Appeals for the Second Circuit issued the ruling. The details of the settlement have been contested in the courts for several years.
Judge Eunice Lee said the claims filed against Purdue Pharma were inextricably linked to the Sackler family. She ruled that if lawsuits were permitted to continue targeting them, Purdue Pharma would not be able to reach a bankruptcy deal.
The ruling paves the way for the settlement which must now receive final approval from a court. While it protects the family from any future civil cases, it does not protect them from potential criminal charges.
As a part of the settlement the Sackler family will give up ownership of the company, which will be rebranded as Knoa, and send its profits to a fund to help treat addiction.
The family has been made to listen to stories of those impacted by the drug as part of the deal. Many of the complainants were state and local governments who alleged OxyContin triggered an opioid epidemic.
The family will also allow their name to be removed from buildings and scholarships.
In 2021, there were more than 100,000 overdose deaths in the US, with opioids involved in 75% of those according to the US Centres for Disease Control and Prevention.
Purdue Pharma promoted opioids as non-addictive painkillers, and the company has previously pleaded guilty to charges relating to its opioid marketing. The Sackler family has denied wrongdoing.
The families of now-deceased Mortimer and Raymond Sackler, the two founders of Purdue Pharma, welcomed Tuesday's decision.
"The Sackler families believe the long-awaited implementation of this resolution is critical to providing substantial resources for people and communities in need," they said in a statement.
Purdue Pharma said they would focus on investing money into "victim compensation, opioid crisis abatement and overdose rescue medicines" going forward.
Source: bbc.co.uk