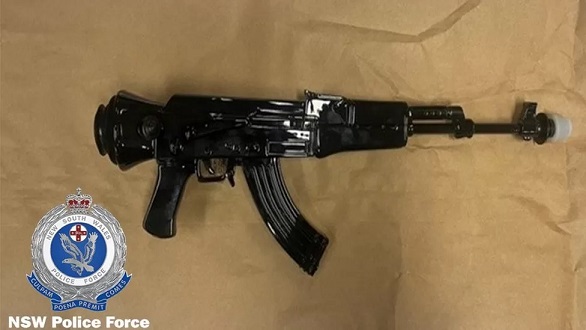 Australian police have charged a man who was seen allegedly carrying what seemed to be an AK-47 assault rifle – but which turned out to have a rather different purpose.
Officers rushed into action after a flurry of emergency calls from north-west Sydney on Wednesday evening.
A helicopter joined the search before CCTV led police to a parked car.
A "gun" was recovered, but police soon realised it was in fact a bong – a device used to smoke marijuana.
A 50-year-old man was later arrested in connection with the incident, police said.
"A search of [a] vehicle by police allegedly located an imitation AK-47 assault rifle. With the assistance of Polair [helicopter], officers found a man in nearby grassland," a New South Wales Police statement said.
The man was later charged with possession of an unauthorised firearm and intimidation.
He has been remanded in custody and his case will be heard in April.
Police will allege in court that the seized item was a bong, a water-filled filtration device used to smoke marijuana and other herbal substances, local media reported.
NSW drugs laws state that it is an offence to "sell, supply or display for sale a bong… or the component parts, whether or not [it] is intended to be used to administer a prohibited drug".
Designed as a cheap and reliable weapon for the Soviet army by Mikhail Kalashnikov in the 1940s, some 100 million actual AK-47s are estimated to have been manufactured over seven decades.
Source: bbc.co.uk