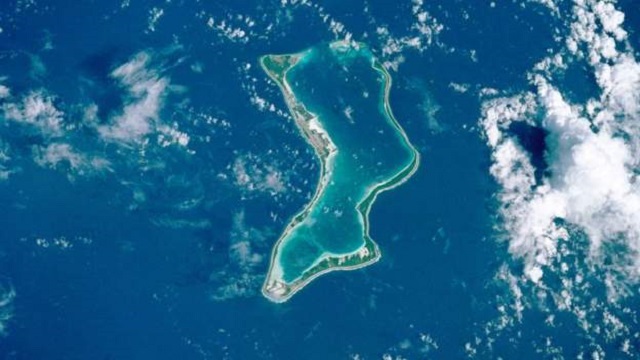 Britain should pay reparations to people removed from the Chagos Islands, a British territory in the Indian Ocean, a human rights group has said.
Human Rights Watch also called on Britain to allow Chagossians to return to the islands, from which more than 1,000 people were forced to leave in the 1960s and 1970s.
The group accused the UK of "committing an appalling colonial crime".
The Foreign Office said it rejected this characterisation.
After a military base leased to the United States was established in 1966 on Diego Garcia, the largest of the 60 small islands of the Chagos Archipelago, the indigenous inhabitants were evicted from their homes. Chagossians have fought for their return ever since.
On Wednesday, Human Rights Watch – an international group investigating abuses across the world – published a report calling for the UK and US to provide reparations to Chagossian people.
Its senior legal adviser Clive Baldwin said: "The UK is today committing an appalling colonial crime, treating all Chagossians as a people without rights.
"The UK and the US, who together expelled the Chagossians from their homes, should provide full reparations for the harm they have caused."
The group identified three "crimes against humanity", including continued force displacement of Chagossian people, prevention of their return home and persecution of them on the ground of race and ethnicity.
It also recommended King Charles issue a full and unreserved apology for crimes committed against by Chagossians by the UK.
A Foreign Office spokesperson said: "We respect the work Human Rights Watch does around the world, but we categorically reject this characterisation of events.
"The UK has made clear its deep regret about the manner in which Chagossians were removed from BIOT [British Indian Ocean Territory] in the late 1960s and early 1970s.
"We remain committed to supporting Chagossians including through a significant support package and our new British citizenship route for Chagossians launched last November."
The US State Department has been contacted for comment.
Mauritius claims it was forced to give up the islands in 1965 in exchange for independence, which it gained in 1968.
Most of the population of the Chagos Islands was sent to Mauritius, 1,000 miles to the south, without compensation. Some moved to the Seychelles and to Britain, where many now live Crawley, West Sussex.