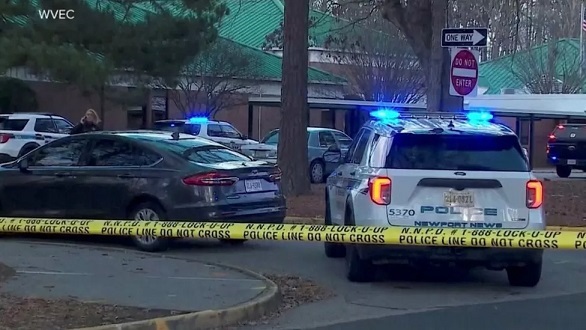 A lawyer for the Virginia teacher shot by her six-year-old student has said school officials had multiple warnings the boy had a gun but failed to take action.
Abigail Zwerner, 25, was released from hospital last week after being shot in the chest in her classroom earlier this month.
"This tragedy was entirely preventable," said her lawyer who intends to file a lawsuit.
Police have not announced any charges.
The 6 January shooting – which authorities have described as "intentional" – rocked the Virginia city of Newport News, and raised questions about what legal consequences may follow and for whom.
"On that day, over the course of a few hours, three different times – three times – school administration was warned by concerned teachers and employees that the boy had a gun on him at school and was threatening people. But the administration could not be bothered," said attorney Diane Toscano.
According to Ms Toscano, a teacher at Richneck Elementary School told an official she believed the young boy had put the gun in his pocket before he went out for recess.
The official allegedly responded: "Well, he has little pockets."
Another administrator ignored a teacher's request to search the boy and his backpack, Ms Toscano said.
The school board did not immediately return the BBC's request for comment.
Ms Toscano's claims are bolstered by text messages exchanged between school's teachers and obtained by the Washington Post. According to the messages, Ms Zwerner had raised concerns about the six-year-old and asked for help.
Last week, the family of the young boy said he suffered from an "acute disability" and rarely attended school without one of his parents being present. The day of the shooting he had attended school alone.
The family also praised Ms Zwerner, saying she had "worked diligently and compassionately to support our family as we sought the best education and learning environment for our son".
Newport News police chief Steve Drew has said Ms Zwerner saved lives on the day of the shooting by ushering her students out of the class after being shot through the hand and in the chest.
Police also said the gun used by the boy had been legally purchased by his mother. The boy's family said the weapon had been "secured". Police have not responded to this claim.
Virginia law prohibits anyone from recklessly leaving a loaded, unsecured firearm in such a way that may endanger a child under 14 years of age.
Source: bbc.co.uk