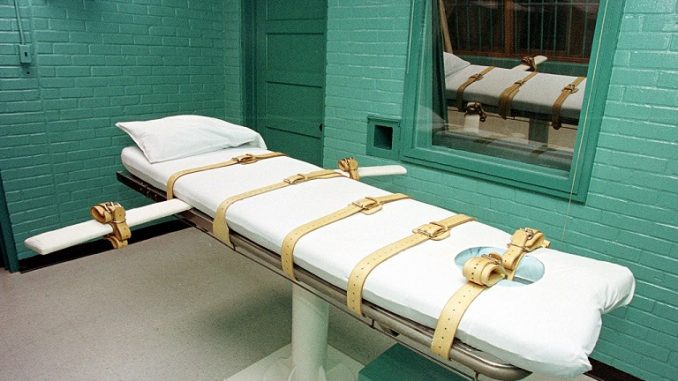 Tennessee has fired two top officials after a report revealed numerous errors in the state's lethal injection system.
The Department of Corrections has fired head lawyer, Debra Inglis, and Inspector General Kelly Young.
The independent report found drugs used in Tennessee's lethal injections were not properly tested for contaminants.
The lethal injection has come under increased scrutiny in recent months after a series of botched executions across several US states.
The report from the non-profit, which takes no position on capital punishment, said executions were visibly problematic because of incompetence, failures to follow protocol or defects in the protocols themselves.
In Tennessee, officials are currently considering changes to the lethal injection protocol and executions are on hold.
Republican Governor Bill Lee paused them in May after calling off the execution of inmate Oscar Smith an hour before he was scheduled to be put to death. He cited an "oversight" in preparations for the lethal injection.
Earlier this month, Governor Lee said the state's Supreme Court would likely wait for the state to finalise changes to its protocol before scheduling future executions,
He requested the independent report, which was released in December and revealed several major errors. It showed that in the seven executions carried out since 2018, none of the lethal injections used were tested for contaminants.
The BBC has reached out to the Tennessee Department of Correction for comment.
Elsewhere, Arizona's Democratic Governor Katie Hobbs ordered a review of death penalty protocols on Friday. It will analyse Arizona's execution procedures and training of staff.
The state's Attorney General Kris Mayes has put all executions on hold until the review is completed.
Arizona restarted executions last year after an eight-year pause following the botched 2014 lethal injection of convicted murder Joseph Wood, whose execution took nearly two hours after officials gave him 15 doses of drugs.
"Recent executions have been embroiled in controversy," Ms Hobbs said when announcing the review on Friday. "We just want to make sure the practices are sound and that we don't end up with botched executions like we've seen recently."
A total of 27 US states still allow the death penalty, including three – California, Oregon and Pennsylvania – which have called for a moratorium on executions.
Source: bbc.co.uk