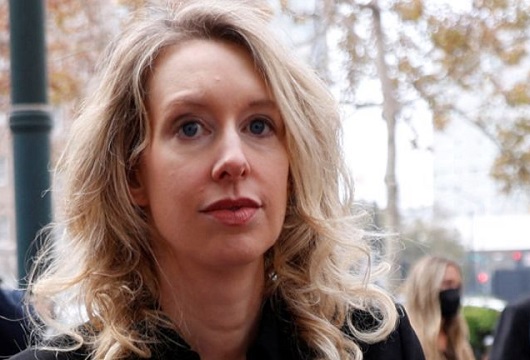 Theranos founder Elizabeth Holmes attempted to flee the US shortly after her conviction on fraud charges last year, prosecutors claim.
According to a new court filing, the 38-year-old bought a one-way ticket to Mexico last January.
"Only after the government raised this unauthorised flight… was the trip cancelled," prosecutors said.
Holmes was convicted for defrauding investors in her blood testing start-up that was once valued at $9bn (£7.5bn).
The former Silicon Valley star falsely claimed the technology could diagnose disease with just a few drops of blood. But it did not work and – facing multiple lawsuits – the company was dissolved in 2018.
The latest court filing, which was submitted on Thursday, also said Holmes's partner had bought a one-way ticket to Mexico.
"The government anticipates [Holmes] will note in reply that she did not in fact leave the country as scheduled – but it is difficult to know with certainty what [she] would have done had the government not intervened," prosecutors said.
The BBC has contacted a lawyer for Holmes to request comment.
Holmes was convicted in early January 2022 of defrauding investors, and then sentenced in November to more than 11 years in prison. During her sentencing hearing, she was ordered to self-surrender to prison on 27 April this year.
But she appealed her conviction shortly after and is asking a judge to let her remain free beyond April while her appeal is heard in federal court. That process could take a year.
Her lawyers also claimed Holmes would raise "substantial questions" that could warrant a new trial.
The latest court filing in California said Holmes has been paying $13,000 (£10,500) a month to live on an estate as her appeal is heard.
Prosecutors want her to surrender as planned in April. "The time has come for Elizabeth Holmes to answer for her crimes committed nearly a decade ago," they said. "There are not two systems of justice – one for the wealthy and one for the poor."
A judge will hear her motion to delay her prison sentence pending appeal on 17 March.
Holmes launched Theranos after dropping out of Stanford University at age 19. The company's value skyrocketed after executives claimed it could bring about a revolution in disease diagnosis.
The rise and fall of the start-up was chronicled in several popular podcasts and TV shows, including a Hulu series called The Dropout, with Amanda Seyfried starring as Holmes.
Holmes's business partner, Sunny Balwani, the former president of Theranos, was sentenced to nearly 13 years in prison in December.
Holmes has apologised for her business "failings" and said she has "felt deep pain for what people went through, because I failed them".
Source: bbc.co.uk