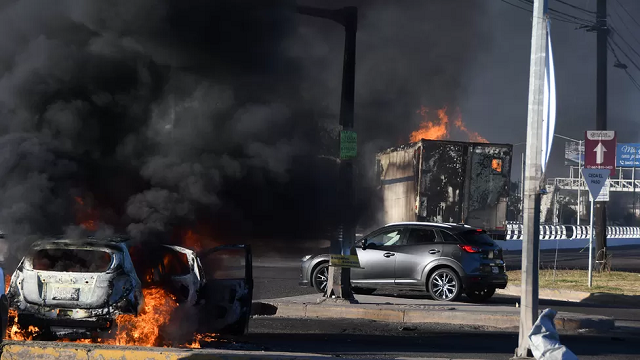 At least 29 people were killed during the bloody operation to arrest of the son of Mexican drugs kingpin "El Chapo", the Mexican authorities say.
Ovidio Guzmán-López, 32, alleged to be a leader of his father's former cartel, was captured in Culiacán and flown to Mexico City on Thursday.
But during and after the arrest, 10 soldiers and 19 suspects were killed.
Furious gang members set up road blocks, set fire to dozens of vehicles and attacked planes at a local airport.
A further 35 military personnel were injured and 21 gunmen were arrested, Defence Minister Luis Cresencio Sandoval said on Friday.
Mr Guzmán-López – nicknamed "The Mouse" – was extracted by helicopter and flown to the capital before being taken to a maximum security federal prison.
He is accused of leading a faction of his father's notorious Sinaloa cartel – one of the largest drug-trafficking organisations in the world.
His father, Joaquín "El Chapo" Guzmán, is serving a life sentence in the US after being found guilty in 2019 of drug trafficking and money laundering. His trial revealed some of the brutal details of how Mexico's drug cartels operate.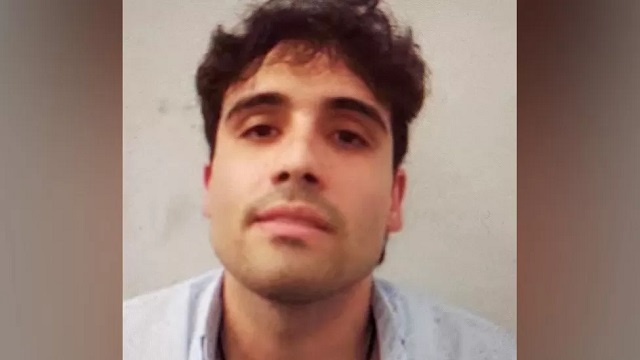 The six-month surveillance operation to capture Mr Guzmán-López had the support of United States officials, Mr Sandoval said.
The US had put out a reward of up to $5m (£4.2m) for information leading to his arrest or conviction, as well as that of three of his brothers who are also thought to have kept their positions of command in the group.
But a federal judge in Mexico has now suspended any extradition process against him, according to local media.
The operation, which began at dawn in Culiacán, in Sinaloa state, north-west Mexico, sparked a wave of violence from armed cartel members.
Dozens of vehicles were set alight and at least two planes at Sinaloa airports were hit by gunfire, in attacks blamed on the Sinaloa cartel. More than 100 flights were cancelled at local airports as a result.
Two Mexican Air Force aircraft were forced to make emergency landings after they were hit by gunfire from the cartel, Defence Minister Sandoval said.
Helicopter gunships were deployed from the authorities to support the ground operation.
Mexican President Andrés López Obrador said Mexican forces had acted responsibly to look after the civilian population and avoid innocent victims. No civilian deaths have yet been reported.
A further 1,000 troops are being sent to Sinaloa to help with ongoing security measures.
Videos on social media have shown burning buses blocking roads in Culiacán.
Justine Goldbas, 32, was travelling on a bus through Sinaloa on her way back home to Los Angeles with her husband and eight-year-old son – just before the riots began on Thursday.
They were then told the bus was "at risk" and the driver was informed he needed to "stop and hide". The vehicle was parked off the main road for 16 hours in Caborca, in the neighbouring state of Sonora, before being allowed to move again.
"There was a lot of fear, people were scared," Ms Goldbas said.
"Our bus had just passed a spot where it happened – literally, if we had waited another 30 minutes before passing, we would have been in the cross of it.
"We've also seen security guards, some in cars and some in big tanks going south. We may have been far from it but we were close enough to see many people driving pretty fast in the opposite direction."
The fuselage of a plane scheduled to fly from Culiacán to Mexico City was hit by gunfire during the operation on Thursday morning as it was preparing for take-off, Mexican airline Aeromexico said.
No customers or employees were harmed, it said. A video posted on social media appears to show passengers crouching and cowering in their seats.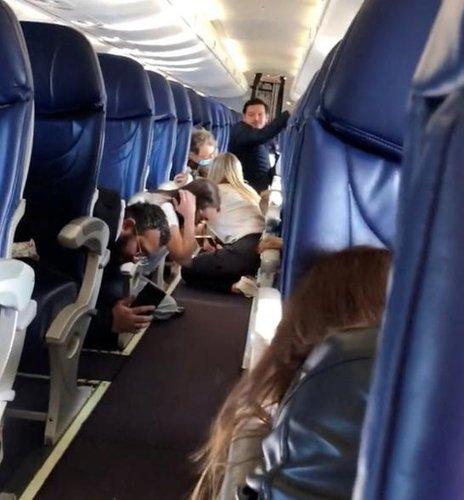 "As we were accelerating for take-off, we heard gunshots very close to the plane, and that's when we all threw ourselves to the floor," one of the passengers, David Tellez, told Reuters news agency.
Culiacan Airport resumed operations on Friday.
US President Joe Biden is due to visit Mexico for a North American leaders' summit next week. He will now arrive on Sunday, a day earlier than previously expected, according to a tweet by Mexico's Foreign Minister Marcelo Ebrard. No reason was given for why he was arriving early.
There were blockades in different parts of the city and residents were urged to stay at home. Many shops were also looted and gunfire exchanges took place between security forces and gang members.
All schools across the whole state of Sinaloa were closed on Friday, the local government body overseeing education said.
Mexican security forces had previously arrested Mr Guzmán-López in 2019 but released him to avoid the threat of violence from his supporters.
The US State Department says he and his brother Joaquín are currently overseeing approximately 11 methamphetamine labs in the state of Sinaloa, producing an estimated 1,300- 2,200kg (3,000-5,000lb) of the drug per month.
They have also said that information indicates Mr Guzmán-López ordered the murders of informants, a drug trafficker and a popular Mexican singer who refused to sing at his wedding.
Source: bbc.co.uk