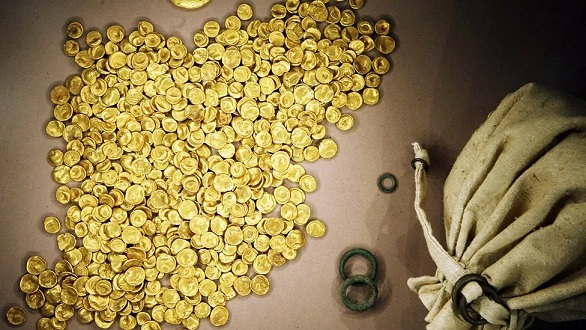 Thieves have stolen a hoard of Celtic gold coins worth about €1.6m (£1.4m) from a museum in Germany.
Hundreds of coins were taken from the museum in Manching, Bavaria, in the middle of the night in a nine-minute raid, police said.
The thieves may have sabotaged the museum's alarm system. Just before the break-in, nearby internet cables were cut causing widespread outages.
Police are exploring whether the theft is linked to previous raids.
The outages meant the alarm system was not triggered when a door was pried open, although it was able to record when the robbery happened.
Employees discovered shattered glass on the museum floor and the coins missing from their display case the next morning.
Rupert Gebhard, Head of Collections at the State Archaeological Collection, mourned the loss saying "it feels like losing an old friend".
A second display case was broken into, where three larger coins were also taken.
Officials suspect organised crime to be behind the coin robbery, and police alluded to "possible parallels" with previous heists.
In 2017, a hefty gold coin weighing 100kg was snatched from a Berlin museum. Two years later, thieves took 21 pieces of jewellery and other valuables in a dramatic diamond heist at Dresden's Green Vault museum that was caught on CCTV.
However, police warned that they "cannot say" whether there are connections between the thefts.
"It's clear that you don't just march into a museum and take its treasure," Markus Blume, Bavaria's Minister of Science and Arts, told local broadcaster BR.
"It is highly secure, and it is reasonable to assume that we are dealing with a case of organised crime."
Experts fear that the hoard of gold coins could be melted down, robbing them of their historical value.
They were unearthed during a 1999 archaeological dig near Manching – considered to be the biggest discovery of Celtic gold in the 20th Century. According to Mr Blume, the find gave people a glimpse into the daily lives of people living in Bavaria over 2000 years ago.
Source: bbc.co.uk