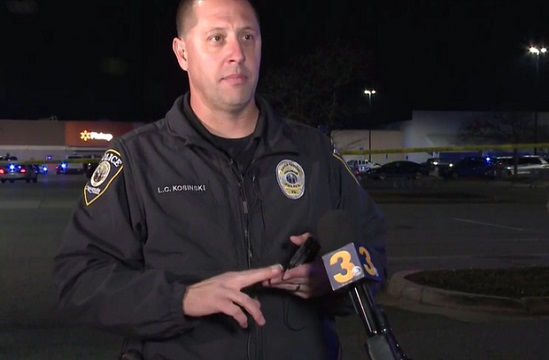 At least seven people are dead after a gunman opened fire at a Walmart supermarket in Chesapeake, in the US state of Virginia, officials say.
A man, believed to be the store manager, opened fire then turned the gun on himself, and is now dead.
The City of Chesapeake earlier tweeted to confirm an "active shooter incident with fatalities".
Multiple others were injured in the shooting. The attacker's motive remains unclear.
Police told reporters that the attack happened at 22:12 local time (03:12 GMT).
Footage appeared online which appeared to show an eyewitness – wearing Walmart uniform – describing what happened.
He said he had left a staff room, which a manager then entered and opened fire.
"Sadly we lost a few of our associates," the man said, clarifying that he did not know how many of his colleagues were shot.
Police spokesperson Leo Kosinski said the shooting was believed to have happened inside the store, and that the suspect acted alone.
Walmart said it was "shocked at this tragic event" and that it was "working closely with law enforcement".
A further update from police in Chesapeake is expected later on Wednesday morning.
A spokesperson for Sentara Norfolk General Hospital was quoted by local television station WAVY-TV saying that five people were being treated there.
One woman told WAVY-TV that her brother, a 20-year-old employee of the shop, was shot just 10 minutes after signing on for work.
But she said her sibling was able to talk to relatives and send texts – saying this was "comforting".
Another woman named Joetta Jeffery told CNN that her mother had been inside the building when the attack took place, and had managed to send text messages.
Ms Jeffrey said her mother was not hurt but was in shock.
Mark Warner, a Democratic senator for the state of Virginia, tweeted that he was "sickened by reports of yet another mass shooting".
Virginia state Senator L. Louise Lucas, also a Democrat, added that she was "absolutely heartbroken".
She wrote on Twitter: "I will not rest until we find the solutions to end this gun violence epidemic in our country."
Tuesday evening's attack comes just days after a gunman opened fire at a LGBT nightclub in the US state of Colorado, killing five people and injuring 17 others.
In 2019, a mass shooting at a Walmart in the city of El Paso in Texas left 23 dead.