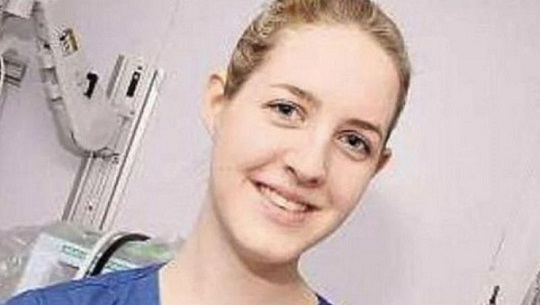 A nurse has pleaded not guilty to murdering seven babies and attempting to murder 10 others.
Lucy Letby, 32, denied a total of 22 charges at the start of her trial at Manchester Crown Court.
The counts related to five boys' and two girls' deaths and alleged incidents involving five boys and five girls at the Countess of Chester Hospital between June 2015 and June 2016.
Ms Letby, of Hereford, worked at the hospital's neonatal unit at the time.
The court was told she had been charged with seven counts of murder and 15 of attempted murder.
The jury has been told the trial may last up to six months.
'Within the Countess of Chester Hospital, a poisoner was at work'
Opening for the prosecution, Nick Johnson KC begins by describing the Countess of Chester hospital.
"It's a hospital like so many others in the UK," he tells the court.
"But unlike many other hospitals in the UK and unlike many other neonatal units in the UK, within the neonatal unit in the Countess of Chester a poisoner was at work."
He then cites the infant mortality rates – which saw a "significant rise" in the number of babies dying, and serious or catastrophic collapses.
Some of the collapses and recoveries "defied" treatment expectations, Mr Johnson says.
"Babies who had not been unstable at all suddenly severely deteriorated.
"Sometimes babies who had been sick and then on the mend deteriorated for no apparent reason.
"Having searched for a cause, which they were unable to find, the consultants found the inexplicable collapses and deaths did have one common denominator.
"The presence of one of the neonatal unit nurses.
"That nurse was Lucy Letby."
What do we know so far?
With various restrictions in place, until now the media has been unable to report much about the allegations against Lucy Letby – to prevent prejudicing a jury and allowing a fair trial.
This morning, proceedings are set to get under way at Manchester Crown Court, where Letby faces charges that she murdered five boys and two girls, and attempted to murder another five boys and five girls, between June 2015 and June 2016.
All of the alleged victims were babies.
It is alleged she went on a year-long killing spree while working in the neonatal unit at Countess of Chester Hospital between 2015 and 2016.
An investigation into infant deaths at the hospital was first launched in 2017. Letby was arrested three times before being formally charged – she has been remanded in custody since 2020.
The 32-year-old, of Arran Avenue, Hereford, denies all the charges against her.
The names of the children, their parents, witnesses connected to them, and eight medical witnesses cannot be reported – so all media will be referring to them as Children A to Q throughout the trial.
Source:  
news.sky.com