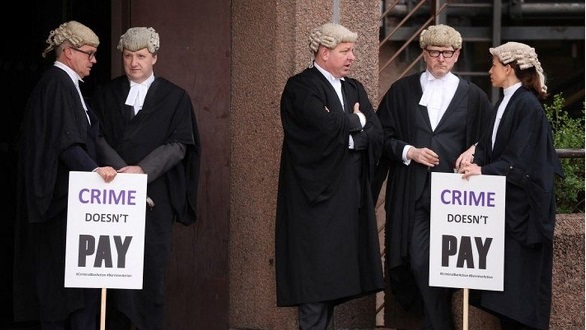 Barristers have voted to go on an indefinite, uninterrupted strike in England and Wales from next month.
The walkout by members of the Criminal Bar Association (CBA) will begin on 5 September.
Until now, members have been striking on alternate weeks in a dispute with the government over pay, working conditions and legal aid funding.
The strikes are expected to delay thousands of cases, leaving victims and the accused waiting longer for justice.
The current strike action means members are already scheduled to strike on 30 August, meaning members' last working day will be on Friday.
Out of 2,273 votes cast, an overwhelming 1,808 members voted to escalate the strike, while 258 were in favour of continuing the current action.
Justice Minister Sarah Dines said the decision was "wholly unjustified".
"This is an irresponsible decision that will only see more victims face further delays and distress," she said.
Kirsty Brimelow QC, vice-chair of the Criminal Bar Association, said the strike action was a last resort.
She told BBC Breakfast: "It's unprecedented, this level of action. However, there have been warning signs of this coming for many years.
"Barristers have had to endure collapses in their income and cuts and underfunding so that their income has decreased over 28% since around 2006."
Court cases are not going ahead because there are not enough barristers to defend or prosecute, Ms Brimelow said.
A solution to the dispute would be an "injection of money" into the cases that barristers were working on, she added.
"The remedy is for an injection of money into the backlog of cases, which currently stands at 60,000 cases, that barristers are working on, that will cost the government only £1.1m per month," Ms Brimelow said.
"Currently, it's costing much more for the courts to sit empty."
An anonymous barrister told the BBC criminal barristers were "woefully underpaid".
Texting Nicky Campbell on Radio 5 Live shortly after the strike was announced, the barrister said pay for criminal barristers had been declining for years.
"The criminal bar is crucial to the rule of law, and we need to attract the best. The pay has been so low for so long now that the quality of the criminal bar has really suffered."
The barrister added lawyers were "an easy target" politically.
"I don't agree with strikes… but barristers have a legitimate grievance."
According to Ministry of Justice (MoJ) figures, more than 6,000 court hearings have been disrupted a result of the dispute over conditions and Government-set fees for legal aid advocacy work.
"The escalation of strike action is wholly unjustified considering we are increasing criminal barristers' fees by 15%, which will see the typical barrister earn around £7,000 more a year."
Courts in England and Wales are already dealing with a large backlog of cases, due in large part to the pandemic – figures from HM Courts and Tribunal Service at the end of April show there were 58,271 cases waiting to go to trial.
The CBA is asking for a 25% rise in pay for legal aid work, when they represent defendants who could not otherwise afford lawyers.
Criminal barristers are due to receive a 15% fee rise from the end of September but members of the CBA have rejected the government's pay offer, saying it would not kick in immediately or apply to existing cases.
Some 6,235 court cases were disrupted during the first 19 days of industrial action between 27 June and 5 August – including 1,415 trials – according to the government.
How much do criminal lawyers earn?
Barristers are self-employed and often perceived as highly-paid.
But that figure falls to a range of £55,900 to £62,900 once expenses are accounted for.
Meanwhile, new criminal barristers can earn as little as £9,000 once costs, including transport, are factored in, while some barristers say the time they spend preparing cases means their hourly earnings are below minimum wage.
Barristers with zero, one or two years of practice earned a median of £25,100 before expenses and a net figure of £18,800 after expenses.
Lawyers who work in other areas, such as private corporate law, can expect to earn £100,000 a year from very early in their careers.