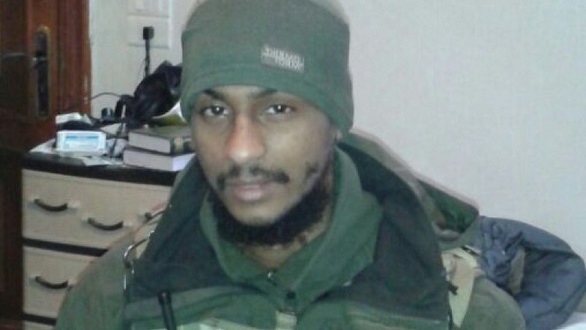 An Islamic State group militant from the UK has been sentenced to life in prison by a US court for his involvement with a terror cell.
El Shafee Elsheikh, 34, was convicted in April of hostage-taking, conspiracy to murder US citizens and supporting a terrorist organisation.
Addressing the Sudanese-born Londoner, the judge called his actions "horrific, barbaric, brutal and criminal".
Elsheikh was the highest profile IS fighter to stand trial in the US.
His actions are said to have resulted in the deaths of four US hostages.
Journalists James Foley and Steven Sotloff and aid workers Kayla Mueller and Peter Kassig were all kidnapped and killed at the hands of the cell.
Elsheikh has been sentenced to eight life sentences, served concurrently, with no option for parole.
He declined the judge's offer to make a comment before sentencing was handed down – his silence has been consistent.
He did make a request – which was to not be sent to ADX in Colorado, a supermax prison that provides a higher, more controlled level of custody than a maximum security prison. Inmates there are kept largely in solitary confinement.
Hostage families expressed a mixture of gratitude and disappointment for the outcome. Standing outside the courthouse on Friday, James Foley's mother, Diane, called the sentencing a "hollow victory," but said that it did show that "US justice will find you wherever you are".
"Our country has lost four of its very best citizens. We families lost loved ones forever," she said.
Hostages said Elsheikh was part of a notorious cell nicknamed "the Beatles" – after the band – because of their British accents.
The three members – Elsheikh, Alexanda Kotey and Mohammed Emwazi – who are said to be part of the group all grew up in west London and volunteered to fight for the Islamic State group in Syria. They ended up guarding Western hostages.
US authorities say the group beheaded 27 hostages.
Elsheikh was the only one of the three militants to go on trial in the US, after Kotey pleaded guilty to charges last September and Emwazi was killed in a 2015 drone strike in Syria.
In April, the 12-person jury deliberated for less than six hours over two days before finding Elsheikh guilty.
The gruelling 11-day trial involved testimony from former hostages and their family members. On the stand, they described the Beatles as a cohesive unit that revelled in brutality.
Witnesses recounted receiving random beatings, being given dog names and being forced to sing a parody of the Eagles' pop song "Hotel California" retitled "Hotel Osama".
Elsheikh has appealed and has disqualified his lawyers, meaning he is claiming he did not get a fair trial.
Source: bbc.co.uk