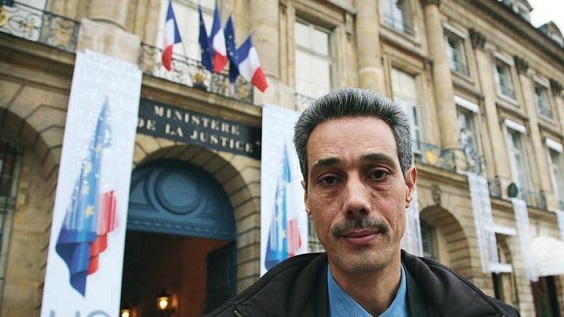 A Moroccan gardener convicted of the gruesome murder of a rich French widow 30 years ago has won his bid to reopen the case and try to clear his name.
In one of France's most notorious murder cases, Omar Raddad, now 59, was found guilty of stabbing to death his employer, Ghislaine Marchal, 65.
The case hinged on a blood-scrawled message on a door by her mutilated body, reading: "Omar killed me".
But the note contained a glaring grammatical mistake.
Instead of using the past participle verb for "killed" (tuée), the inscription used the infinitive (tuer).
Mr Raddad's lawyers argued that he had been framed because Marchal – a wealthy and well-educated woman – would never have made such an error.
The case has long gripped France, drawing accusations that Mr Raddad, an immigrant, was the victim of discrimination. Books and films depicted the conviction as a miscarriage of justice.
In 1996, two years after he was sentenced to 18 years in jail, Mr Raddad was partly pardoned by then-French President Jacques Chirac.
He was freed from prison but his conviction was never overturned.
Mr Raddad lodged an appeal for his case to be reopened this June, after new DNA evidence emerged.
The traces of four unknown men were found at the scene in 2015. One of the them, Mr Raddad's supporters say, is the real murderer who framed him.
Sylvie Noachovitch, Mr Raddad's lawyer, said he had been given fresh hope by the decision by France's top appeals court to re-examine the evidence.
"This ruling is a step towards a reversal of the conviction," Ms Noachovitch said, "but the battle is not over."
She said she hoped the reopened case would "rectify one of the biggest judicial errors of the 20th century".
Marchal's family still maintain that the former gardener is guilty of killing the socialite at her villa on the French Riviera.
They say the DNA traces have been contaminated. And at Mr Raddat's trial, they said she had a habit of making grammatical errors.
Source: bbc.co.uk