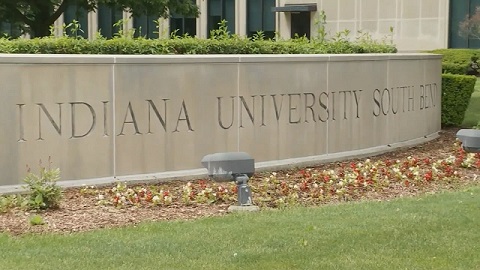 A federal judge has refused to block a university's requirement that students be vaccinated, in what is believed to be the first such ruling in the US.
Indiana University's policy says that students, faculty and staff must have Covid-19 vaccinations by 15 August.
Eight students had sued to have the rule scrapped, alleging it violated their right to make their own choices.
But the judge disagreed in his ruling, noting students have other methods to avoid vaccination.
In their complaint, the students alleged that their constitutional rights to "personal autonomy" and to reject medical treatment were being trampled.
US District Course Judge Damon Leichty found, however, that the school's policy does not amount to forced vaccinations.
The judge wrote that the students have a number of options open to them, including applying for medical deferrals, taking a semester off or attending another school. Religious and ethical exemptions are also available for students to request on the university's website.
Mr Leichty, who was appointed by former President Donald Trump, added that the students are unlikely to be able to prove in court that their rights have been infringed upon.
A lawyer for the students has vowed to appeal the decision.
The students had cited a number of reasons for opposing the policy, including a statistically low risk of contracting Covid-19 and the unclear long-term impact of the vaccine.
The legal complaint also compared the vaccination policy to the Tuskegee Study, an unethical experiment during the 1930s in which African-American patients were deliberately withheld available syphilis treatments.
Indiana is one of nearly 600 colleges across the country that have required Covid-19 vaccinations this year.
Vaccines have become a politically contentious issue in the US and many Americans remain hesitant about the jabs. President Joe Biden has warned that the country is falling short of their vaccination goals.
US health officials have also cautioned that the number of infections in the country has begun to rise in recent days.
Experts say the pandemic is unlikely to end until more people are vaccinated.
Source: bbc.co.uk