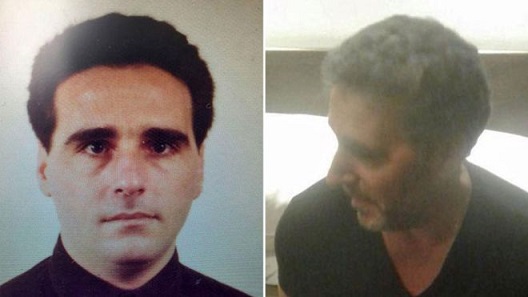 Brazilian police have arrested fugitive Italian mafia boss Rocco Morabito in the north-eastern city of João Pessoa.
Known as the "cocaine king of Milan", the suspected head of the 'Ndrangheta crime gang has been one of Italy's most wanted fugitives since 1994.
Morabito was arrested in Uruguay in 2017, but escaped from jail two years later while awaiting extradition to Italy.
He has been sentenced to 30 years in absentia by an Italian court.
Morabito was arrested at a hotel on Monday, the Brazilian justice ministry said in a statement. Two other foreigners, including another Italian, were also arrested.
The ministry said Morabito "was considered the second most wanted criminal in Italy and accused of involvement with the 'Ndrangheta, considered one of the largest and most powerful criminal organisations in the world".
According to Italian news agency Ansa, the arrest was part of a joint operation involving Italian authorities, as well as the US Drug Enforcement Administration (DEA) and the FBI.
Morabito was previously arrested while staying in a hotel in Uruguay's capital, Montevideo, in 2017. He had been living in a luxury villa near the resort town of Punta del Este, east of the capital.
He and three other inmates managed to escape through a hole in the prison roof in 2019, a scandal that prompted the resignation of Uruguay's prison chief.
The 'Ndrangheta are the most powerful mafia in Italy and are believed to control the supply of huge amounts of cocaine entering Europe from South America and elsewhere.