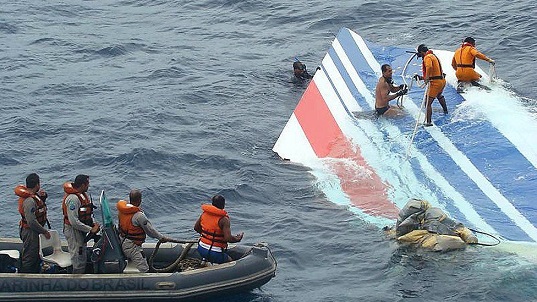 Twelve years after an Air France Airbus plane crashed into the Atlantic killing 228 people, a court has ruled that the airline and manufacturer should go on trial for involuntary manslaughter.
The Paris court overturned a ruling two years ago and backed recommendations from prosecutors.
Flight AF447 from Rio de Janeiro in Brazil to Paris went down on 1 June 2009, killing everyone on board.
Investigators found the pilots had lost control when air-speed sensors froze.
Both the airline and manufacturer plan to appeal.
What happened to Flight AF447?
It was the worst crash in Air France's history, when the Airbus A330 disappeared over the Atlantic in a storm. It took two years to find the wreckage, which was eventually located by remote-controlled submarines in 2011, after a search of 10,000 sq km (3,860 sq miles) of ocean floor.
A combination of technical failure involving the plane's Pitot sensors during the storm and the pilots' inability to react to the plane stalling led to it plunging into the sea at a speed of 11,000ft (3,352m) per minute, French investigators concluded in 2012.
While the pilots had been confused by faulty air-speed readings, they mistakenly pointed the nose of the plane upwards when it stalled instead of down. Since the crash, pilot training has been improved and the speed sensors replaced.
Why has it taken so long?
Families of those who died as well as pilots' unions have campaigned for years for a trial, BBC Paris correspondent Hugh Schofield reports.
Magistrates had initially charged both the airline and manufacturer with manslaughter but the Paris prosecutor then recommended that only Air France should go on trial. In September 2019 charges against both were dropped, because there were not enough grounds to prosecute.
Both the general prosecutor and the Paris prosecutor challenged that decision and the Paris appeals court on Wednesday decided both the airline and Airbus should stand trial.
"It's enormously satisfying to feel we've finally been heard by the courts," said Danièle Lamy, the head of the victims' families support group. "We just regret it's had to take 12 long years to get here – 12 years of unstinting determination, filled with uncertainty, frustrating and obscure procedures and discouragement, but we never gave in."
There is little prospect of any trial soon. Air France said it had committed no crime and may take the case to the high court of appeal. Airbus has also said it will appeal, insisting the decision did "not reflect in any way the conclusions of the investigation that led to the dismissal of the case in favour of Airbus".
Source: bbc.co.uk