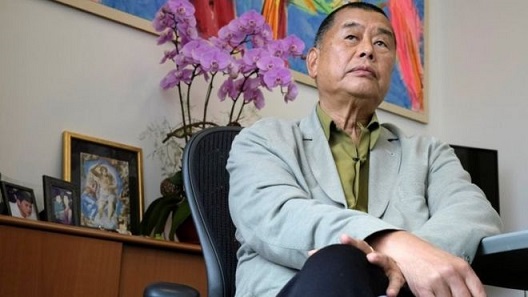 Hong Kong pro-democracy media tycoon Jimmy Lai has been sentenced to 12 months in prison after being found guilty of unauthorised assembly.
Mr Lai was one of several activists in court on Friday who were earlier found guilty of charges relating to large pro-democracy demonstrations in 2019.
The 73-year-old founder of Apple Daily is a fierce critic of Beijing.
The verdict comes as the mainland is increasingly cracking down on Hong Kong's rights and freedoms.
Nine activists were sentenced on Friday for participating in a demonstration on 18 August 2019. Another three received sentences in relation to a separate protest on 31 August.
Earlier this week, Mr Lai's Apple Daily newspaper published a hand-written letter by him, sent from prison, which read: "It is our responsibility as journalists to seek justice. As long as we are not blinded by unjust temptations, as long as we do not let evil get its way through us, we are fulfilling our responsibility."
Speaking to the BBC in an exclusive interview ahead of his charging hearing, Mr Lai, who was born in mainland China but smuggled into Hong Kong as a child, said even if he were to be imprisoned, he would still be "living my life meaningfully".
"I came here with one dollar. I got everything I have because of this place," he said. "If this is the payback time, this is my redemption."
Mr Lai faced eight charges in total, two of which were imposed under the country's new National Security Law, which can carry a maximum term of life in prison.
The law, implemented in Hong Kong by China last year, criminalises secession and subversion. Earlier this month, Beijing overhauled the territory's electoral rules to ensure more loyalty to the mainland.
Source: bbc.co.uk