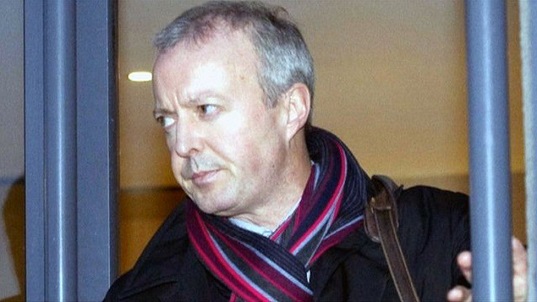 A business consultant has told a court that his arrest during the probe into Craig Whyte's takeover of Rangers was a "career ending moment".
David Grier was arrested in November 2014 but was later acquitted of all charges against him by a high court judge.
The 60-year-old is now suing the Lord Advocate, who is the head of the Crown Office, Scotland's prosecution service.
He is also suing the police and his damages claim totals £7m.
Mr Grier believes he was wrongfully arrested and that the Crown Office and the police did not have any evidence to prove that he had committed any crime.
The Crown Office and Police Scotland are opposing the action.
Giving evidence at a virtual hearing of the Court of Session, Mr Grier said he was currently employed as a "managing director advisory" with Duff and Phelps, a multinational financial consultancy firm based in New York.
Mr Grier was charged in 2014 along with a number of other men during an investigation into how Mr Whyte bought the company that ran the Glasgow football club three years earlier.
He said police arrested him at his home in the south of England at 06:00 and drove him north to Glasgow.
Mr Grier said that seven years on, he still had no idea why he was prosecuted over his involvement in Mr Whyte's acquisition of Rangers in 2011 from former owner Sir David Murray.
Questioned by his advocate Andrew Smith QC, Mr Grier said he had no concerns that there was anything improper about the deal.
"There was nothing unusual about that transaction," he told the court.
"It was a perfectly normal commercial transaction with a willing seller, if anything an overwilling seller, that was keen to get a transaction completed as soon as possible."
Mr Grier said he could have withdrawn from acting for Mr Whyte if he had been aware of any improper behaviour.
Asked about the impact his arrest and prosecution has had on his career, Mr Grier replied: "Unfortunately being arrested for fraud when you are working in the financial sector is catastrophic. It's a career-ending moment.
"My connections that I had established over many years were suddenly no longer encouraged to deal with me, and for good reason."
Funding arrangements
He said his firm was very supportive and he had been "repositioned" in the company. His new job title was now managing director (advisory).
Mr Grier had said he has since tried to have articles removed from the internet but it had proved very difficult.
Of seven people arrested during the fraud investigation, Craig Whyte was the only person whose case went before a jury. He was accused of using Rangers' own money to buy the club while claiming the funds were his. He was found not guilty in 2017 after a seven week trial.
Police Scotland's advocate Alastair Duncan QC put it to Mr Grier: "Your position is that you were misled…as to how Craig Whyte was funding the acquisition."
Mr Grier replied: "You are right. We played no part in the funding arrangements. We had no involvement in anything that the police had accused us of."
Mr Grier denied lying to police officers involved in the inquiry.
The Crown Office has already admitted that two other Duff and Phelps employees David Whitehouse and Paul Clark were subjected to "malicious" prosecutions over their role in events at Rangers.
Mr Whitehouse and Mr Clark were appointed administrators of the club in 2012.
They have received damages from the Crown Office of £10.5m each and £3m in legal expenses.
The current Lord Advocate James Wolffe QC apologised to both men in a statement in the Scottish Parliament.
The Crown has also admitted that there was a malicious prosecution against Charles Green, who led a consortium which took over Rangers in 2012.
Mr Green is seeking damages of £20m from the Lord Advocate and the chief constable.
Source: bbc.co.uk