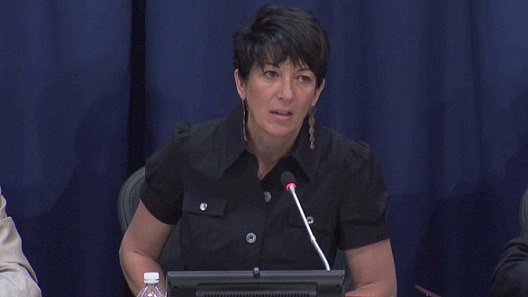 A US judge has turned down a $28.5m (£21.4m) bail package by British socialite Ghislaine Maxwell who is awaiting trial on sex crime charges.
The New York ruling said the suspect, 59, poses a flight risk and the offer did not assure her appearance at future hearings.
She is accused of helping the convicted sex offender Jeffrey Epstein groom young girls, which she denies.
It is the second time bail for Ms Maxwell has been denied.
She has been in jail in Brooklyn, New York City since she was arrested in July at her secluded mansion in the state of New Hampshire.
Lawyers suggested she had been hiding out at the mansion.
Her bail package proposed that she be allowed to return home with armed guards to prevent her from escaping.
Lawyers objected to her prison conditions, saying she was subject to invasive searches and that guards disturbed her every 15 minutes to check she was still alive.
But prosecutors said there was a risk that, if bailed, Ms Maxwell could use her wealth to flee to France or the UK where she is a citizen and suggested she might try to avoid extradition.
Ms Maxwell was in a relationship with financier Jeffrey Epstein in the 1990s. He died in a prison cell in August last year as he awaited trial on sex trafficking charges, more than a decade after he was convicted for soliciting prostitution from a minor.
Four of the charges against Ms Maxwell relate to the years between 1994 and 1997, when prosecutors say she helped Epstein groom girls as young as 14. The other two charges are allegations of perjury in 2016.
She faces up to 35 years in prison if convicted in her trial, which is scheduled to begin next July.
Court documents filed in November to apply for bail said the multi-million dollar proposal represented all of Ms Maxwell and her husband's joint assets, including three homes.
Ms Maxwell is the daughter of media mogul Robert Maxwell. She allegedly introduced Epstein to wealthy and powerful figures including Bill Clinton and the Duke of York, Prince Andrew of the British Royal Family.
Epstein sex trafficking case: Timeline
2005: One of Jeffrey Epstein's alleged victims, aged 14, reports him to the police in Palm Beach
2006: Epstein is charged with unlawful sex acts with a minor
2007: A plea deal is struck – instead of facing federal sex-trafficking charges, Epstein pleads guilty to two charges of soliciting prostitution, including with a minor
2008: Epstein gets an 18-month sentence following the plea deal
November 2018: The Miami Herald publishes an explosive investigation into Epstein, the plea deal, and the dozens of women alleging abuse
July 2019: Epstein is arrested again, accused of sex trafficking of underage girls over a number of years
August 2019: Epstein is found dead in his prison cell while awaiting trial
2 July 2020: Ghislaine Maxwell is arrested by the FBI at her New Hampshire home
14 July 2020: Ms Maxwell pleads not guilty to charges of trafficking minors for Epstein and is denied bail
Source: bbc.co.uk