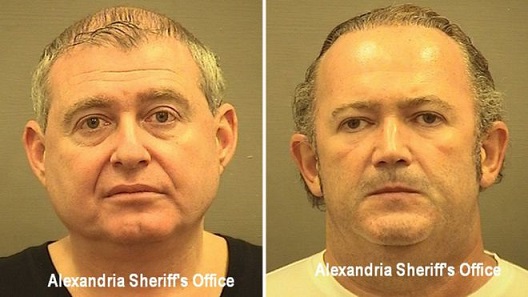 Two Trump donors have been charged with violations of campaign finance laws, New York prosecutors say.
Soviet-born businessmen Lev Parnas and Igor Fruman conspired to "funnel foreign money to candidates for federal and state office", say the charges.
The pair have been associated with US President Donald Trump's personal lawyer Rudy Giuliani.
They have been peddling unsubstantiated corruption claims against a top Democratic presidential contender.
Both men are US citizens. Mr Parnas was born in Ukraine, Mr Fruman in Belarus.
They are expected to appear in federal court in Virginia on Thursday.
US media report the two men were arrested at Dulles International Airport in Virginia before they could board a scheduled flight to Vienna, Austria, on Wednesday night.
Two other men, Andrey Kukushkin, a Ukrainian, and David Correia, a US citizen, were also indicted in the same case on Thursday.
The Trump administration's role in Ukraine is at the centre of a congressional impeachment inquiry.
The probe concerns Mr Trump's request in a July telephone call for Ukraine's president to launch an investigation into former US Vice-President Joe Biden, now a White House hopeful.
Under US law, foreign nationals are prohibited from donating to elections to restrict foreign influence on the US government. Campaigns must also publicly report the sources and details of contributions made in federal elections.
Mr Parnas and Mr Fruman are accused of circumventing these laws through a money-laundering scheme.
They allegedly used an unnamed foreign national's money to make political contributions in their own name, and lied to the Federal Election Commission (FEC).
The men allegedly set up an energy company in Florida to conceal the sources of their funding.
They are accused of falsely donating $325,000 (£264,000) to a pro-Trump political action committee (PAC) in 2018 in the name of the company and claiming it was for company purposes.
The donation recipient is named as "Committee-1" in the indictment.
The same donation was flagged by a campaign finance watchdog.
When media began reporting about the Florida donation, one of Mr Parnas' associates said "this is what happens when you become visible … the buzzards descend", according to the indictment.
Mr Parnas responded: "That's why we need to stay under the radar."
Including this donation, Mr Parnas and Mr Fruman gave upwards of $400,000 to Republican campaigns in a few months.
The slew of contributions allowed the men to meet leaders of the Republican party, including Mr Trump at the White House and at his Florida resort, Mar-a-Lago.
Mr Fruman and Mr Parnas also allegedly raised thousands in funds for an unnamed congressman in order to seek their "assistance in causing the US government to remove or recall the then-US ambassador to Ukraine".
This was allegedly done in part by "the request of one or more Ukrainian government officials".
The ambassador at the time was Marie Yovanovitch, who is expected to testify before the House of Representatives on Friday about the Ukraine inquiry.
Ms Yovanovitch was dismissed earlier this year.
The four are also accused of trying to launch a marijuana business in Nevada and other states by gaining political support through donations funded by a Russian businessman. The business venture did not launch, according to the indictment.
Their attorney, John Dowd, who previously represented Mr Trump, has not commented to US media.
Mr Parnas and Mr Fruman were expected to appear on Thursday and Friday before Democratic-led congressional committees investigating Mr Trump.
On Thursday, lawmakers issued Mr Parnas and Mr Fruman with legal summonses to compel them to submit documents to the inquiry.
Mr Parnas has been a longtime associate of Mr Giuliani and, according to the New York Times, enlisted Mr Fruman's help to connect the president's lawyer with Ukranian prosecutors.
The pair helped organise a meeting between former Ukrainian prosecutor Yuri Lutskeno and Mr Giuliani in January, according to the Associated Press.
Mr Giuliani in May referred to Mr Parnas and Mr Fruman as his clients.
In the complaint that sparked the Ukraine inquiry on Capitol Hill, the whistleblower noted concerns that Mr Trump was "using the power of his office to solicit interference from a foreign country" in the upcoming presidential election.
The whistleblower report also repeatedly mentioned Mr Giuliani's involvement in Ukraine – and his work with Mr Parnas and Mr Fruman, who are referred to as his "two associates".
Source: bbc.co.uk