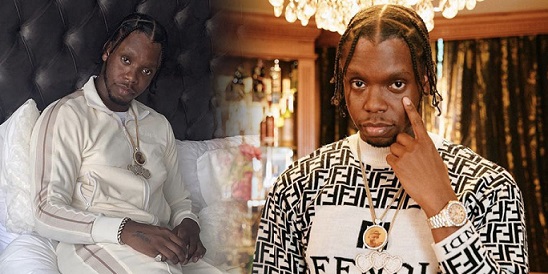 Rapper Krept has said he is "good" and will be "back in no time" after he was assaulted backstage at a BBC Radio 1Xtra live event in Birmingham.
The sold-out Saturday night show at the Arena Birmingham was brought to a close early following the incident.
The rapper, one half of duo Krept and Konan, suffered a slash wound. He tweeted on Sunday: "Can't keep a good man down."
Police said medical help was given on site and he did not go to hospital.
West Midlands Police are looking at CCTV from inside the venue and speaking with potential witnesses. Forensic investigations are also continuing.
The force told the BBC the event would have been risk assessed in advance "because all large events are".
1Xtra Live was billed as an "unmissable night" with a "mix of emerging and established artists", including Aitch, French Montana, Ms Banks and headliner Wizkid.
Tickets for the Arena Birmingham, which has a capacity of 15,800, had sold out.
The gig was broadcast live across 1Xtra and Radio 1 but the stream ended when the event was called off.
The BBC said it was sorry to do so but safety was a priority.
In a statement, the corporation added: "We are upset and saddened that something like this should happen to a guest at one of our events and we remain in close contact and continue to offer our full support."
Krept's manager Docta Cosmic and Konan both tweeted on Saturday night, saying: "Bro's good."
Security staff alerted police to the assault, which happened at about 22:00 BST on Saturday. Police are appealing for information.
BBC Radio 1Xtra said security was the venue's responsibility. The venue declined to comment.
It is understood that artists, performers and people backstage were subject to the same security measures as the audience.
Several audience members posted videos on social media which appeared to show scuffles in the crowd.
In a separate incident, officers arrested a 23-year-old man on suspicion of possession of a knife at door six of Arena Birmingham. The man remains in custody.
Some people expressed frustration that the concert was brought to an end about an hour before it was due to finish.
One audience member, Charlotte, bought tickets to the event as a birthday present for her friend who had never been to a concert before.
Charlotte, 27, who did not give her surname, told BBC Newsbeat: "It's not the best experience. You could tell by everyone's facial expressions they were fuming, and after there were boos.
"You can understand the frustration if you paid money to get good seats. It's like you've paid for the two main acts and they're not coming out."
Krept and Konan have previously spoken out in defence of drill music, a menacing, often lyrically violent subset of British rap which police have linked to a rise in knife crime.
Earlier this year, the duo launched a petition asking the Crown Prosecution Service to stop police from using the Serious Crime Act to target drill musicians.
They warned that outlawing drill music could push performers back to a life of crime and rob Britain of major talent.
Source: bbc.co.uk