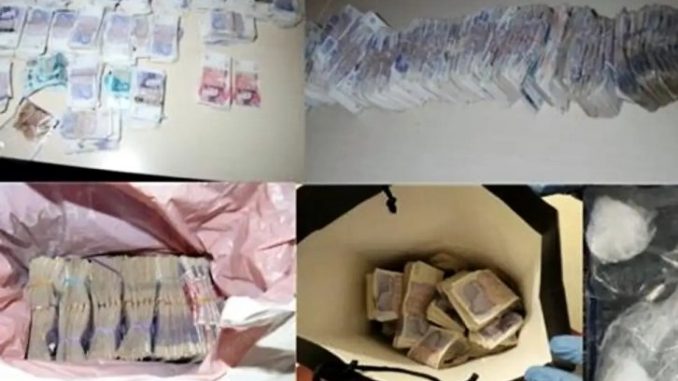 By TRISTAN KIRK Courts correspondent
Members of a criminal gang who ran an £8 million drugs supply operation across the UK while laundering profits through a web of 'front' companies are facing jail.
Ringleader Baljinder Kang, 32, lived a lavish lifestyle on the drug profits, splashing out on designer shopping sprees at Harrods, Gucci, and Ralph Lauren, buying watches worth almost £50,000 and taking regular trips to the United Arab Emirates.
He and lieutenant Sukhjinder Pooney, 34, used encrypted smartphones and a series of "burner" phones to direct the drug supply chain around the UK, laundering the profits through UK companies before moving it to a bank account in Dubai.
When the gang's operation was broken up by the National Crime Agency and the Met Police, officers seized more than £1.4 million in cash and found evidence of £1.8 million which had been successfully laundered.
They recovered heroin and cocaine with a street level value of more than £3.5 million, 50kg of ketamine worth £1.25 million, and a handgun which was loaded with ammunition, Kingston crown court heard.
One of the gang, Daljinder Bassi, 37, had three kilos of heroin in his car when arrested, and detectives then discovered drugs and money stashed around his Wolverhampton home including £750,000 in cash hidden in a wall cavity which was accessed by a homemade pulley system.
Kang pleaded guilty last month to drug supply and money laundering charges, while Pooney admitted money laundering and was found guilty at trial yesterday of supplying class A drugs.
They are due to be sentenced alongside other members of the drugs supply chain at a hearing on July 24.
The court heard the operation began to be unravelled at the end of 2017, when an surveillance operation caught Kang, from Tilbury in Essex, meeting with East Midlands drug dealer Aaron Chander, 27, in a steak restaurant in Harrow
Kang was overheard offering to supply 10kgs of cocaine for £260,000, in a deal which was later found recorded in a handwritten ledger of all payments he received. He had noted down another deal worth £1.5 million.
Police swooped on a car park handover of seven kilos of cocaine between Chander, and Liverpool dealers Aba Saleh, 32, and Ferass Awwad, 27, leading to the three of them being jailed for a total of more than 30 years.
Chander had also been caught with a loaded 9mm Baikal pistol and ammunition at his home in Wolverhampton.
Officers kept the rest of the gang under surveillance, discovering a network of companies used to launder illicit profits and observing bags of drugs being handed over.
Kang was seen at a November 2017 meeting with Dinesh Nadesan, 28, at a Pizza Hut in Croydon, and the following day he handed over a suitcase with £250,000 in cash at a pub in Heston, west London.
John Coles, NCA head of Specialist Operations, said: "This investigation has systematically broken up a significant criminal organisation which operated across the south east, west midlands and into the north of England.
"The drugs that Kang and Pooney's group trafficked will have contributed to violence and exploitation along the supply chain, while their extensive money laundering operation exploited the UK banking system to move money offshore."
Kieran O'Kane, 25, from Gravesend, pleaded guilty to possessing class A drugs and denied but was convicted of money laundering.
Aminoor Ahmed, 21, and Amir Ali, 25, both from Gravesend, Chandra Suppu, 46, from Croydon, Dinesh Nadesan, 28, from Sutton, and Omer Sattar, 25, from Huddersfield, admitted money laundering.
Webster Kenton, 54, from Mitcham, denied but was convicted of conspiracy to supply class B drugs.
Abid Rasul, 40, from Luton, fled to Pakistan before his trial, and was convicted in his absence of conspiracy to supply class B drugs.
Hummaad Khadim, 32, from Huddersfield, admitted money laundering and dangerous driving.
They will all be sentenced alongside Kang and Pooney.
Bassi, from Wolverhampton, has already been sentenced to 13 years in prison.
Source standard.co.uk