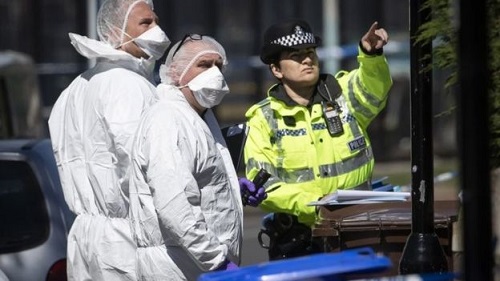 Two boys have died and four other children – including a seven-month-old baby – are in hospital after police swooped on a house in Sheffield.
A man, 37, and a woman, 34, arrested on suspicion of murder remain in custody as officers attempt to establish how the pair, aged 13 and 14, died.
The other children – aged 11, 10, three and seven months – remain in hospital but are conscious, police said.
A cordon remains in place outside the home in the Shiregreen area.
South Yorkshire Police received "reports of concerns for safety" of those inside the address at 07:30 BST.
Neighbours reported seeing more than a dozen police cars in the street and an air ambulance landing in a nearby primary school.
Supt Paul McCurry said officers were not looking for anybody else in relation to the deaths and said it was an "isolated" incident.
The surviving children would be in hospital for "certainly the next few hours", he said, while post-mortem tests on the deceased were due to take place later.
Police earlier said there was no wider risk to the community and urged people to be "mindful" of what they posted online.
Emergency services were alerted to a serious incident here at a semi-detached house this morning and police have been on the scene ever since.
Forensics officers are coming and going all the time.
There's been speculation about what has happened here – there was even a suggestion of a shooting at one point, prompting police to say no guns were involved.
Officers won't be drawn on the circumstances, so there's lots of unanswered questions as the inquiry goes on.
A large area remains cordoned off as that investigation continues.
Aaron Brunskill, who lives locally, said residents came out into the street at 08:00 to find about 15 police cars and four ambulances.
He said: "I know there's children there, I've just seen them walking back to the shops and that's all I know.
"Everyone speaking on the road said the first one out had to be resuscitated."
Yorkshire Air Ambulance confirmed it had landed in the grounds of Hartley Brook Primary Academy, which backs on to the road.
The school is not believed to have been involved in the incident.
In a statement, Gill Furniss, Labour MP for Sheffield Brightside and Hillsborough, said she was "deeply saddened by the tragic incident".
"My deepest sympathies are with the loved ones of the children who have lost their lives and also with those who are currently in the care of Sheffield Children's Hospital," she said.
"Shiregreen is a strong community but I know the whole area is deeply shaken by what has happened here.
"I would like to thank hardworking South Yorkshire Police and the NHS staff for their response in such a difficult situation."
Source: bbc.co.uk